With the help of 100 award-winning celebrity chefs, Autism Speaks raised $1.25 million at its inaugural Autism Speaks to Los Angeles Celebrity Chef Gala, which took place October 8, 2015 at Barker Hangar in Santa Monica.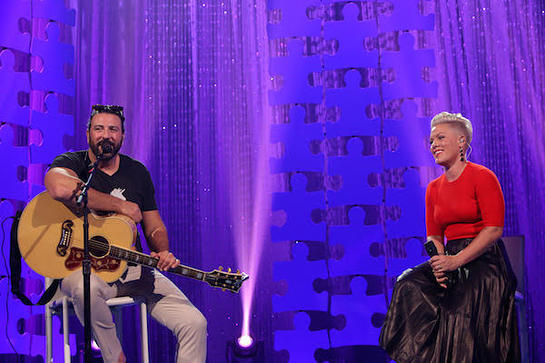 More than 600 guests, including Hollywood's top industry execs and celebrities Conan O'Brien, Al Roker, Pink and Giada De Laurentiis honored Autism Speaks co-founders Bob and Suzanne Wright and commemorated the organization's ten years of progress.
Following a cocktail reception hosted by Wolfgang Puck Catering, the program opened with remarks from Los Angeles Mayor Eric Garcetti, who commended The Wrights on their accomplishments over the last ten years and thanked the organization for bringing the New York gala to the West Coast. He then introduced late night comedian Conan O'Brien, who brought the laughs as host of the star-studded fundraiser.
Today Show co-anchor Al Roker kicked off the "Fund-A-Mission" auction with Neal Katz, a young man with autism who communicates through speech-to-text technology via an iPad. Guests had the opportunity to support special Autism Speaks initiatives and bid on auction lots from Jenn-Air Appliances and Delta Airlines. Grammy-award winning recording artist P!nk made a surprise donation of $50,000 towards the Autism Speaks iPads grant program which gives thousands of iPads to low-income families every year.
Guests dined on exclusive four-course meals prepared tableside by over 100 of Los Angeles top chefs including Akasha Richmond (SAMBAR), Antonia Lofaso (Scopa Italian Roots), Ben Ford (Ford's Filling Station), Brian Malarkey (Herringbone), Jet Tila (Food Network) Joachim Splichal (Patina), Michael Voltaggio (Ink) Nancy Silverton (Osteria Mozza).
After a heartwarming speech by Curt Harper, a competitive surfer with autism, P!nk performed "Beam Me Up" (off her 2012 album "The Truth About Love") with the song's Grammy-nominated songwriter Billy Mann, a music executive and a national board member of Autism Speaks.
Following Pink and Billy Mann's performance, Conan presented Autism Speaks co-founders Bob and Suzanne Wright with the Humanitarian Award.
"This award means so much because our work together is truly changing the future for 100 million people worldwide, maybe even more," said Bob Wright. "We began as small groups, merged into Autism Speaks and now are collaborating with the World Health Organization and more than 70 countries. Moving forward will be about motivating and mobilizing our grassroots base everywhere. And here at home we are collaborating with Google on a groundbreaking genome project called MSSNG. It will give us more than the answers we need about autism."