Miami Children's Health Foundation's Diamond Ball: Diamonds Are Forever gala raised more than $3 million including announced gifts, for the children and families of Nicklaus Children's Hospital, formerly Miami Children's Hospital, in a Diamonds Are Forever-themed black-tie affair that brought together more than 800 guests to the JW Marriott Marquis Miami.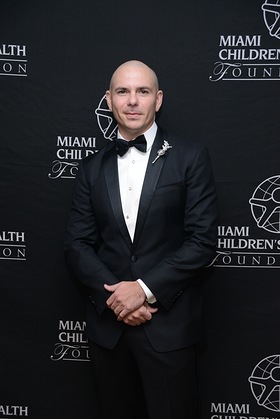 Global music superstar, Armando Christian Pérez Pitbull, was recognized for his contribution to the community and his continued support to Nicklaus Children's Hospital as celebrity Ambassador to Together For The Children, The Campaign for Miami Children's. Armando was inducted into the Ambassador David M. Walters International Pediatric Hall of Fame for exemplifying his passion for helping children throughout the world.
"Being honored in my hometown for supporting the children and families at Nicklaus Children's Hospital means the world to me," Armando said. "This is a tremendous honor. It's an amazing feeling to have the opportunity to make a difference in our community, and most importantly in the lives of children everywhere".
The evening also included an emotional testimonial by Amanda, a Nicklaus Children's patient who survived a traumatic head injury. Amanda addressed the audience inspiring everyone to come Together For The Children in support of the hospital that saved her life. Television host and best-selling author, Alejandro Chabán served as emcee of the glamorous affair, which also featured a silent auction. VIP guests had exclusive access to the Bvlgari Privée sponsored by Kaufman Rossin, which transported attendees to the Casino de Monte-Carlo, where they enjoyed a unique showcase of Bvlgari jewelry pieces and a few more surprises.
"The Miami Children's Health Foundation Diamond Ball gala pays tribute to building hope for our children and generates the funds needed for Nicklaus Children's Hospital to continue providing world-class pediatric care, research and innovation," said Lucy Morillo, president and CEO of Miami Children's Health Foundation. "This year we are excited to honor Armando Christian Pérez 'Pitbull' for his support as celebrity ambassador of our Together For The Children campaign."
The event included some of today's most recognized influencers and celebrities, such as Laura Flores, Fabian Rios, Cynthia Olavarria, Kimberly Dos Ramos, Susan Krabacher, Adriana Lavat, Gabriel Valenzuela, Domingo Zapata, David Chocarro, Enrique Santos, Henry Santos, Carlos Muñoz, and the evening's emcee Alejandro Chabán, as well as community leaders, philanthropists, physicians, friends, supporters, patients and families of Nicklaus Children's.
The Ambassador David M. Walters International Pediatric Hall of Fame was created in 1986 to recognize and honor individuals who have made significant contributions to the health and happiness of children everywhere. It is the highest honor bestowed by the foundation. Past honorees into the Ambassador David M. Walters International Pediatric Hall of Fame include Beyoncé Knowles, Dwyane Wade, Gloria and Emilio Estefan, Juanes, Romero Britto, and Walt Disney, among others.