Prince Harry has met Barack Obama at the White House, where they discussed issues facing veterans including challenging the stigma around mental injury.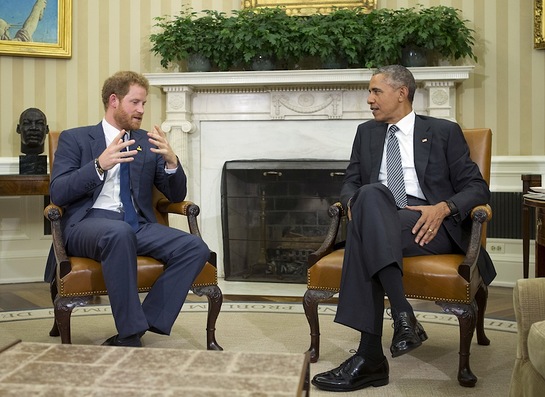 Prince Harry is delighted to have the enthusiastic support of the President for the 2016 Invictus Games in Orlando.
Earlier in the day The Prince joined First Lady Michelle Obama and Dr. Jill Biden in Virginia at Fort Belvoir military base to meet wounded servicemen and women undertaking recovery and rehabilitation programmes.
During the visit to Fort Belvoir, the party toured the USO Warrior and Family Center, a state-of-the art facility specifically designed to support wounded, injured or ill troops, their family members and caregivers.
The Prince gave a speech highlighting the upcoming Invictus Games.
"The Invictus Games seeks to change perceptions of physical and mental injury," he said. "One thing we have to talk about more is breaking down these barriers around so-called invisible injuries, like post-traumatic stress, just as we have for physical injuries like the loss of a limb.
"This is a topic I know the First Lady and Dr. Biden are working hard to highlight so that people are no longer afraid to ask for help. This fear of coming forward, as a result of the stigma which surrounds mental health, is one of the greatest challenges veterans face. People from all walks of life struggle with issues like post-traumatic stress, anxiety, and depression, not just veterans.
"We have to help them all to get the support they need, without fear of being judged or discriminated against. Not only is it ok to talk about it, we have to talk about it. I am thrilled that the Invictus Games are happening again. Hundreds of additional veterans from around the world will benefit from taking part. And millions more people will be inspired by their stories. This is going to be four incredible days of sport."
Prince Harry also attended an Invictus Games board meeting and reception at the British Ambassador's Residence in Washington DC. The Prince, Patron of the Invictus Games Foundation, met people involved in the delivery of 2016 Games and hear how event plans are progressing.
Source: www.princehenryofwales.org