UNICEF Goodwill Ambassador David Beckham today met children receiving treatment for malnutrition at a UNICEF-supported hospital in Papua New Guinea.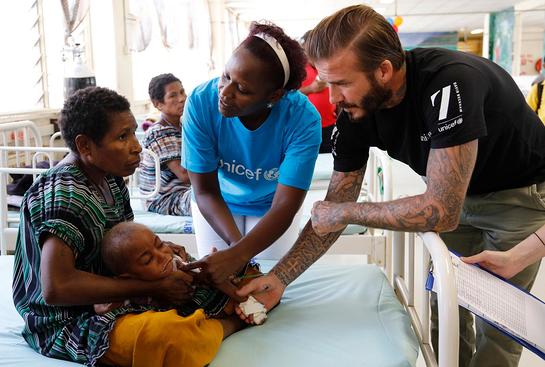 One child in 13 in Papua New Guinea dies before they reach their fifth birthday, with malnutrition the underlying cause for the majority of under-five deaths in the country. National statistics show that close to half of children in Papua New Guinea suffer from stunting.
Earlier this year Beckham launched 7: The David Beckham UNICEF Fund, making a personal commitment to use his voice, influence and connections to raise vital funds and rally for lasting change for children.
The Fund is helping UNICEF to deliver life-changing programmes for children across every region of the world, including those affected by malnutrition in Papua New Guinea.
"At the start of this year, I launched my own Fund with UNICEF because I wanted to help build a safer world for children," said Beckham. "I feel very proud to be in Papua New Guinea to see for the first time how the money raised is helping to keep children healthy and safe, by providing live-saving therapeutic food for children suffering from malnutrition. I believe that all children should be given the opportunity to reach their full potential and it's incredible to see the lengths UNICEF will go to in order to protect the most vulnerable and hardest to reach children."
David's commitment to UNICEF will continue with an emotional return to Old Trafford on Saturday 14th November, where he will captain a Great Britain and Ireland star line-up against a Rest of the World team led by Zinedine Zidane. The Match for Children will raise awareness and vital funds for his UNICEF Fund.
To find out more about 7: The David Beckham UNICEF Fund visit www.7.org and to support its work visit support.unicef.org/7.