FIRST, an international, K-12 not-for-profit founded to inspire young people's interest and participation in science and technology, rallied support for STEM education through a series of activities last week during its inaugural FIRST, Inspire Celebration, at 583 Park Avenue in New York.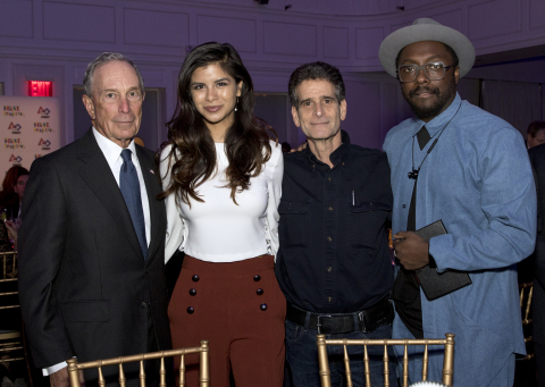 FIRST honored Michael Bloomberg, will.i.am, and New York University student and FIRST alumna Diana Lee Guzman with individual awards for their efforts to advance STEM (science, technology, engineering, and math) education in underserved communities in New York City and Los Angeles:
• Michael R. Bloomberg, Founder of Bloomberg LP, Philanthropist, and Three-Term Mayor of New York City – earned the John C. Whitehead Leadership Award in honor of the New York City luminary who recognized the need for hands-on activities that inspire youth with the power of STEM.
• will.i.am, Global Music Artist, Entrepreneur and Philanthropist – earned the Community Inspiration Award for inspiring students to pursue STEM and help build stronger communities.
• Diana Lee Guzman, FIRST Alumna and NYU Tandon School of Engineering Student – earned The Evelyn Kamen Rising Star Award, named after the official Grandmother of FIRST who served much of her life as a teacher in the New York state school system leading students toward exciting futures.
"By providing young people with opportunities to explore new worlds, FIRST is making a big difference in their lives – and in our future," said Michael R. Bloomberg, who received the John C. Whitehead Leadership Award. "Bloomberg is proud to support organizations like FIRST that are encouraging the next generation of talented scientists and engineers and preparing them to take on some of the toughest challenges we will face, from improving public health to fighting climate change."
As part of the event, FIRST launched an online auction via Charity Buzz, which includes one of Chevrolet's first 2016 Volt electric cars. Other items include a hand-crafted clock by Dean Kamen; dinner with Kamen and a personal tour of his home, WestWind; private tour of The Future, will.i.am's private creative complex in Hollywood; lunch in New York City with iconic award-winning American filmmaker and musician, Andrew Jarecki; and an off-hours tour of The Metropolitan Museum of Art.
"Engineers coming out of communities like mine (Boyle Heights, CA), that's the America we need," said will.i.am. "We need to help make FIRST mandatory in every school."
In addition to the awards, the event featured prominent speakers such as Bill Ackman, founder & CEO of Pershing Square Capital Management, L.P.; Don Bossi, president of FIRST; Dean Kamen, founder of FIRST; and many FIRST students recognizing the impact that FIRST has made in STEM education over the past 26 years.
"FIRST is humbled and honored to receive such generous support from organizations that share our commitment to inspiring young people in STEM," said FIRST President Donald E. Bossi. "There are so many students who don't have access to programs like FIRST that challenge and engage them in a dynamic, fun way through hands-on learning. With expanded support, FIRST can reach more kids in underserved communities, especially urban settings, and help them start teams in their schools."
The inaugural event raised $1.7 million to further expand diversity efforts and student access to STEM opportunities. The online auction will continue through November 19 at www.charitybuzz.com/support/FIRST; funds raised will support the mission of FIRST.