"Plenty of people know the feeling of being first, only or different," Shonda Rhimes told a sold-out audience of more than 10,000 at the 11th annual Massachusetts Conference for Women. "It means you are a trailblazer. There is a responsibility there, whether you want it or not."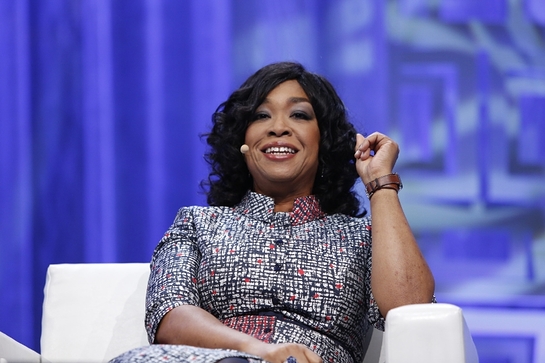 Rhimes, one of television's most prolific writers and producers, and the creator of hit shows such as "Scandal," "Grey's Anatomy" and "How to Get Away with Murder," and author of a new book "Year of Yes," has been changing the face of Hollywood by creating more diverse roles for women, both in front of and behind the camera. Noting that the entertainment industry is making slow if uneven progress in its portrayal of women, Rhimes said that the increasing number of women running television shows means that they can decide who gets "hired and fired," whether women characters will be "secretaries or CEOs," and "which stories are told."
Conference attendees also heard remarks from Boston Mayor Martin J. Walsh and keynote addresses from Sophia Amoruso, founder and executive chairman of Nasty Gal; Tim Gunn, executive producer and star of Lifetime's "Project Runway," Ellen Pao, entrepreneur, investor, and writer; Adam Grant, Wharton's top-rated professor and best-selling author; and Candy Chang, TED senior fellow, urban space artist, and designer.
The nonpartisan, nonprofit conference is the largest personal and professional networking event for women in the U.S., with more than 100 industry and thought leaders from across the country. Breakout session topics included leadership, career advancement, personal branding, social media, health and wellness, finance, and more. Conference attendees participated in the popular Bentley University Career Pavilion with in-person resume reviews by human resource experts, career coaching with members of the International Coach Federation of New England and one-on-one conversations with local community and business leaders.
Now entering its second decade, the Conference is expanding its offerings to a broader audience and shifting its focus to improving opportunities for women in the workplace. As part of this effort, the Conference presented the inaugural Workplaces That Work Summit. Designed for both men and women in mid-level management positions, the summit focused on leveraging gender partnerships to advance equity within workplaces. Led by industry leaders including David Duncan, Senior Partner at Innosight, and Alison Quirk, Executive Vice President and Chief Human Resources Officer at State Street Corporation, the summit provided an interactive and transparent forum for managers to take action to create a level playing field and inclusive leadership within their companies.
The Conference also hosted its first Opening Night event on December 9th, providing a taste of the Conference for only $25 to some 4000 attendees. Opening night events included an interview series with best-selling authors; holiday shopping with local women-owned businesses and live entertainment. Attendees pitched their products to Tory Johnson from Good Morning America's "Deals & Steals!" and met Bert Jacobs, co-founder of the Life is Good company, and Kelley Dempsey, designer and Project Runway contestant.
"We are proud to offer even more opportunities for the Conference's dedicated community of women to further develop their personal and professional lives and to move the needle for women in the workplace," said Gloria Larson, Board President of the Massachusetts Conference for Women and President of Bentley University. "We can think of no better way to continue creating impact in our second decade of service."
The Massachusetts Conference for Women is generously underwritten by the following sponsors: State Street; EMC; Merck KGaA; Cisco; Boston Scientific; Dell; HOLOGIC; Raytheon; riverbed; Santander; Tyco; Akamai; Bank of America; Bentley University; Fresenius Medial Care; John Hancock; Johnson and Johnson; Juniper; Kronos; Liberty Mutual; Mercer; Sanofi; Suffolk; ThermoFisher; VistaPrint; BainCapital; Crimson Lion; amag; Amtrak; Baxalta; BJs; Blue Cross; CanyonRanch; Intel; John F. Kennedy Library Foundation; MFS; National Grid; NaviNet; Reebok; TIAA CREF; tripadvisor; United; Vertex; Weber Shandwick; Xfinity; AMP Radio; Mix 104.1; WBZ News Radio; The Boston Globe; WCVB 5.
"We've made immense strides when it comes to women in the workplace, but there is still much more work to be done," said Alison Quirk from State Street Corporation. "The Conference recognizes that reality, celebrating advancements made, while energizing attendees to build on existing momentum. We are proud to sponsor the Conference, which recognizes the value in supporting the women of Massachusetts and beyond."
To learn more about the Massachusetts Conference for Women, click here.