Hot Dog on a Stick is 70 years old and to celebrate its platinum anniversary, is aiming to "Stomp Out Cancer" by raising $70,000 for The Leukemia & Lymphoma Society (LLS).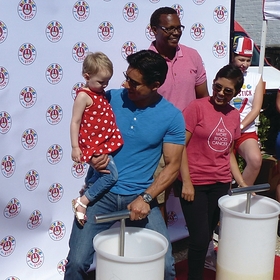 The iconic pop culture brand recently kicked-off its fundraising efforts with a celebrity lemonade Stomp-A-Thon featuring Mario Lopez of Extra and Saved by the Bell fame. At the event, Mario learned to stomp lemonade with LLS' honored patient heroes including three year old Kylie, who was diagnosed with Leukemia just two days before her second birthday. Leukemia is the most common form of childhood cancer, but thanks to the cutting-edge research funded by LLS, there continuous to be hope. Kylie was put into a clinical trial for her particular type of Leukemia and she has fought cancer with a smile. She has been in remission since November 2015, but will continue maintenance chemo therapy treatment over the next several years.
Hot Dog on a Stick's Stomp-A-Thon for LLS, held at its famous Muscle Beach location in Santa Monica, raised more than $15,000. The brand is calling on fans and friends to help reach the $70,000 goal. Donations can be made here. Another highlight of the day was Mario working in the famous beach stand making Hot Dog on a Stick's famous stick items and serving customers.
"Kylie is an amazing little fighter and one great lemonade stomper too!" said Katie Hiller, mother of LLS Honored Hero, Kylie. "Hot Dog on a Stick's Stomp-A-Thon was an inspirational and uplifting event and their fundraising efforts will help children like Kylie stomp out cancer for years to come. Please consider donating to their campaign to make a difference in the lives of blood cancer patients and their families."
Kylie's journey can be followed on her Facebook page.
To find a Hot Dog on a Stick near you, visit www.hotdogonastick.com.