On sale now through
Ticketmaster.com
, the 2016
(RED)
Supper event – hosted by
Mario Batali
with Anthony Bourdain – brings together the most dynamic names in food, music and social media for a dinner that is sure to be both savo(
RED
) and remembe(
RED
).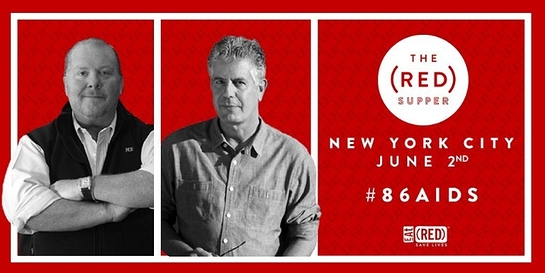 Guests will join each other at the table for a five-course (RED) menu created by celebrated chefs, including: Anthony Bourdain, Nancy Silverton (Mozza Restaurant Group), Frank Falcinelli and Frank Castronovo (Frankies Spuntino, Frankies 457, Prime Meats, Café Pedlar), Tom Douglas (Tom Douglas Restaurants), Vinny Dotolo (Animal, Son of a Gun, Trois Mec), Angela Dimayuga (Mission Chinese Food), Kristen Kish (Winner, Top Chef Season 10), Kevin Gillespie (Gunshow) and Dominique Ansel (Dominique Ansel Bakery, Dominique Ansel Kitchen). The evening will feature a live performance by New Orleans musician Jon Batiste and Stay Human, the house band for The Late Show with Stephen Colbert. Visual artist Shantell Martin will create a striking, live and interactive art installation during cocktail hour while guests enjoy beats by DJ Brendan Fallis.
"Teamwork is the theme of the night;" explains (RED) CEO Deborah Dugan. "It's the key ingredient to winning the AIDS fight, and it's also what makes for an unforgettable meal and evening. We're honored to have such a talented team of chefs helping us kick-off our 2016 EAT (RED) SAVE LIVES campaign this June," explains (RED) CEO, Deborah Dugan.
Adds Host Mario Batali, "The (RED) Supper is anything but your average charity dinner. It's the only culinary event where guests get to eat an unbelievable family-style meal paired with Josh Cellars Wine, interact directly with the chefs, drink (BELVEDERE)RED cocktails and (BILLECART-SALMON)RED champagne, rock out to fantastic live music, receive tips at the table from the biggest food Instagrammers and participate in a live art installation!"
Tickets are priced at $100, with 100% of proceeds going to The Global Fund to fight AIDS, the beneficiary of all (RED) monies. $100 is enough to provide 9 months of lifesaving HIV/AIDS medication to a pregnant woman living with HIV in sub-Saharan Africa – medication, which helps ensure that her baby is born HIV-free.
The 2016 (RED) Supper will take place in a dramatic raw space with panoramic views atop New York City's 225 Liberty Street. With sweeping views of the Hudson River, Statue of Liberty and Downtown Manhattan, The 2016 (RED) Supper marks the start of (RED)'s annual, month-long culinary campaign EAT (RED) SAVE LIVES which unites chefs, restaurants, food trucks and bars worldwide in the fight to end AIDS. Beef served at The (RED) Supper is generously being provided by Pat LaFrieda Meat Purveyors.