The American Cancer Society hosted its 11th annual Taste of Hope event on Wednesday, May 25th, 2016 at the Metropolitan Pavilion in New York City.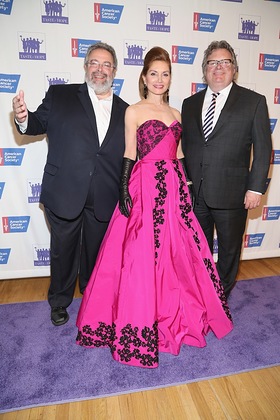 The prominent culinary, wine, and spirits event featured some of New York's most popular restaurants, chefs and beverage vendors. Guests enjoyed a walk-around tasting where they had the chance to sample trademark dishes, premier wines and spirits, and inventive cocktails.
Participating restaurants and chefs included cancer survivors Eric LeVine of Morris Tap & Grill and Chef Antonio Prontelli of Rock Center Café. Dishes served ranged from savory delicacies such as Fish Tacos from Almond, Mini Pulled Pork Sliders from Dinosaur Bar-B-QUE and Watermelon Gazpacho with Lobster Salad from La Fonda Del Sol to the sweet Southern Style Cupcakes from Doc's Cake Shop and Banana Pudding from Magnolia Bakery.
Restaurant and beverage participants included: AG Kitchen, Alidoro, Almond, BLT Prime, Calle Ocho, Fresco By Scotto, La Fonda Del Sol, Luke's Lobster, Magnolia Bakery, Nobu New York, Rock Center Café, STK Downtown, Todd English, Triomphe, Voilà Chocolat and many more. Approximately 50 participating restaurants and beverage sponsors were represented at the event.
Now in its 11th year, the event is presented annually by the American Cancer Society and the Taste of Hope volunteer committee and has raised over $1.5 Million to support the American Cancer Society's mission and goal of eliminating cancer as a major health problem. The Society is currently investing more than $450 million in over 50 types of cancer research, with 103 new extramural grants that will go into effect this July. Like previous years, the event gathered over 800 affluent epicureans and philanthropists from the New York Metro area. This year's event was hosted by event chairs Mark D. Friedman & Jamie Koff and the 2016 Taste of Hope Volunteer Committee. The event raised over $200,000. American Cancer Society are still accepting donations via their website www.tasteofhopenyc.org.
An hour into the event, event chairs Mark D. Friedman & Jamie Koff took to the stage to introduce the 2016 event host Chris Wragge as well as this year's honorees David Burke, Drew Nieporent and Jean Shafiroff. Friedman thanked the guests and honorees for coming and for their generous donations to the American Cancer Society and its work. Koff continued on to thank the event committee for all their hard work and dedication to the ACS mission.
The next person to take the microphone was CBS news anchor Chris Wragge and actor Richard Kind. Wragge started off mentioning the event's great food, great drinks and great desserts, before asking who in the room had been affected by cancer in some way. Many hands were raised – showing just how all-affecting cancer is. Wragge encouraged everyone to help raise money for a cure, and mentioned that it was his fifth appearance at this important annual event.
Next, a video of the three honorees was displayed, following which the first honoree, David Burke, took to the stage. Culinary Honoree and award-winning celebrity chef David Burke, thanked guests and volunteers for making this event possible and the committee for being chosen as an honoree. Actor Richard Kind then stepped on to hand Burke an all clad sauté pan, inscribed with the Taste of Hope logo, jokingly noting that "you may not want to get panned, but tonight you will", placing the pan on top of Burke's head.
The next honoree to make an announcement was Corporate Honoree and Owner of Myriad Restaurant Group Drew Nieporent, who as Burke, thanked everyone for attending the event and mentioned how close to his heart the cause is, having lost his mother to cancer in 2000. Also Nieporent received a sauté pan from Kind, before introducing Jean Shafiroff.
Philanthropic Honoree and Author Jean Shafiroff thanked her fellow honorees, the American Cancer Society and all the volunteers who helped make the event possible. She pointed out the tremendous difference the ACS Hope Lodge makes in recovering cancer patients' lives and how vital funding is to allow more research and resources for people struggling with cancer.
Concluding the announcements, Wragge and Kind took to the stage again to challenge the guests to donate $5,000 in 5 minutes. The live fundraising raised $8,000 in the next five minutes – contributing to the American Cancer Society's mission to beat and treat cancer.
The event also featured a silent auction where guests bid on selected items exclusively offered to Taste of Hope. Highlights from the silent auction included: an exclusive Hamilton theater package, a Fiddler on the Roof theatre package, a Martha Stewart cooking kit, a Knicks pre-game ballkid experience and a golf tutorial by a PGA Tour superstar instructor.
Corporate sponsors of the event were Allstate, Don Q Rum, Eurostruct Inc, Freshdirect, Gentle Giant, Halstead Property, Sabert, Tito's Handmade Vodka, UHY LLP, Umenoyado, Vinitaly International and Wine Spectator.