This week, (RED) and Teespring unveiled their limited edition t-shirt designed by world-renowned chef Mario Batali and rap superstar Action Bronson.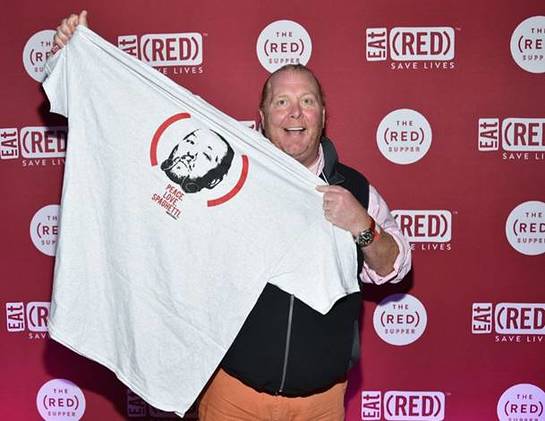 Batali is the official ambassador of (RED)'s annual June campaign, "Eat (RED) Save Lives," which unties culinary rockstars and epicureans across the globe in the fight to 86 AIDS.
"Action should be at the center of your pop culture universe if he isn't already. He's about music, food, comedy, irreverence and giving back; I think our t-shirt for (RED) perfectly captures this," explains Batali.
The limited edition t-shirt, available for purchase for $25.00, features both Action Bronson and Mario Batali's faces embraced by (RED)'s iconic parenthesis. Infamous for his inclusion of food lingo throughout his songs, a line beneath Bronson's face reads, "Stay saucy like a pasta, with the broccoli, who's stopping me?" The shirt also features Mario Batali's food-centric mantra, "Peace. Love. Spaghetti."
Notably, for every t-shirt purchased, Teespring will donate 100% of the proceeds to (RED)'s fight for a world in which every baby is born HIV free. The proceeds will go towards funding lifesaving medication, which when taken daily, prevents HIV+ pregnant women from transmitting the virus to their unborn babies.
Exclusive Action Bronson x Mario Batali shirt available here.