The Stella Adler Studio of Acting hosted the 11th Annual Stella by Starlight Benefit Gala this week at The Prince George Ballroom in New York City.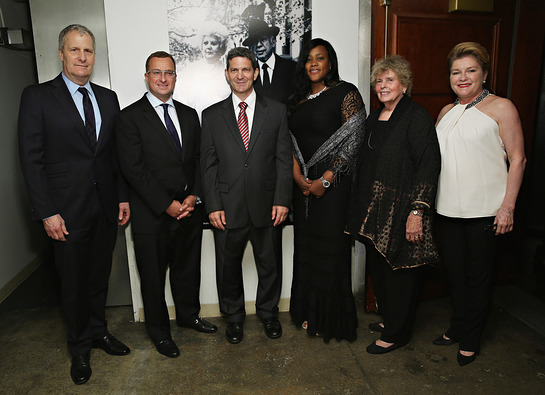 The event honored actor Jeff Daniels, the late director Nancy Malone, real estate developer Sharif El-Gamal and New York City Department of Correction Deputy Commissioner of Youthful Offender and Young Adult Programming Winette Jackson.
Actress Kate Mulgrew, board member of the studio, Orange Is the New Black's Lea DeLaria and fiancée Chelsea Fairless and New York City Department of Correction Commissioner Joseph Ponte were also in attendance at the 11th annual event. Proceeds from the gala will benefit the Stella Adler Studio of Acting's programs, including its Outreach Division, which serves many underprivileged populations including inmates at Rikers Island.
Tom Oppenheim, Artistic Director of the Stella Adler Studio of Acting, opened the evening by speaking about the power of theater and the arts to uplift humanity. "We see daily the positive transformational power of theater and the redemptive potential of art," said Oppenheim. "What we do is vital and relevant. Theater and all of the arts have a role to play in making this a saner and more loving world."
An intimate gathering of 150 guests enjoyed cocktails, hors d'oeuvres and dinner and were treated to a performance of "Waiting for Lefty" by members of the Stella Adler Youth program. Guests also heard from Tommy Demenkoff, Director of Outreach at the Stella Adler Studio of Acting, and Yolanda Gonzalez and Yesenia Vega, founding members of the Stella Adler Studio of Acting at Rikers Island, who spoke about the benefits of arts training behind bars and the impact of the studio's work at Rikers Island.
"Thank you so much to the Stella Adler Studio for standing by me and supporting our efforts to reform Rikers and providing age appropriate activities to really engage our young people," said Winette Jackson, recipient of this year's Harold Clurman Spirit Award. "Without partners like the Stella Adler Studio, we really can't do the work we really want to do, which is to help individuals successfully transition back into the community."
"I'm so grateful and honored to be here with you all tonight," said honoree Sharif El-Gamal, who received the Stella Adler Corporate Award. "The Stella Adler Studio of Acting is one of the most incredible institutions in New York City, and its work is critical. I'm very humbled to be a small part of it."
Guy Sanville, Artistic Director of Jeff Daniels' Purple Rose Theatre Company, presented Daniels with the Group Theater Award. Accepting the award, Jeff Daniels spoke about his recent work on Broadway in Blackbird and the universal language of theater, saying, "The life in the play is connected to the lives inside those watching in the audience. That's why theater will always survive. That's the magic of it."
Kate Mulgrew spoke highly of her late friend, the director Nancy Malone, and introduced Linda Hope, who accepted the Stella Adler Leading Lady award on behalf of Malone. "Stella Adler was one of the great forces in Nancy's life, and one of the best gifts she ever gave me was taking me to some of Stella's classes," said Linda Hope. "Somewhere I have to know that Nancy is here and smiling and happy about this evening."
Over the years, the Stella by Starlight Gala has honored some of the most distinguished artists in the entertainment and media industries. They have included Ethan Hawke, Kate Mulgrew, James Earl Jones, Whoopi Goldberg, Harry Belafonte, Rosie Perez, Warren Beatty, Liza Minelli, Martin Sheen, Annette Bening, Tony Kushner, Stephen Sondheim, George Takei, Suzanne Shank, Pamela J. Newman, Masa Tanaka, Katsumi Hatao, the late Elaine Stritch and the late Ruby Dee as well as other key entertainment, theatrical and business leaders.