More than 500 active and retired entertainment industry professionals celebrated health and fitness with MPTF (Motion Picture & Television Fund) on June 10 as part of its year-long 95th anniversary celebration.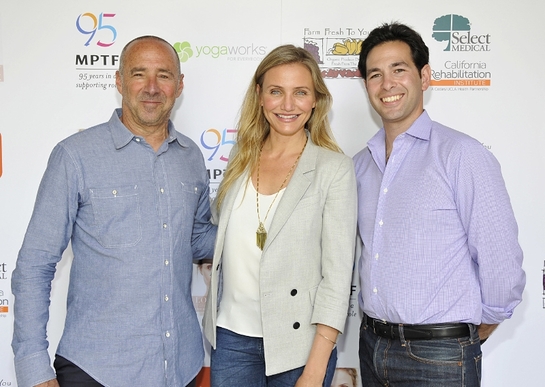 MPTF transformed its Wasserman Campus in Woodland Hills into a vibrant exhibition of living and aging well. The day featured education, entertainment, lunch and a special appearance by Cameron Diaz, actress and New York Times bestselling author of The Longevity Book.
"Aging should be an enjoyable journey — not to be feared, but one we can all embrace," said Scott Kaiser, MD, the event organizer, a practicing geriatrician and Chief Innovation Officer at MPTF. "To create communities that enable people to live well and age well, we need to inspire people to make healthy choices — like exercising and eating well — along with staying socially connected, engaged and living with a sense of purpose."
During the luncheon Dr. Kaiser interviewed Diaz, who talked about her fascination with aging and her desire to learn more about how it affects us physically and emotionally.
"I wrote this book because I wanted to peek into my future," she said. "I don't want to live in fear of aging; I want to reframe the way we talk about aging."
Diaz inspired the crowd with her reflections on health and resilience in a world that places a premium on youth.
"When I turned 40 everyone asked me what would happen to my career — not am I taking care of myself, eating well, exercising and getting a checkup," Diaz said. "We need to think of aging as a privilege. The best way to age well isn't to worry about aging. It is to live well."
She encouraged the crowd to "become the architects of our strength and resilience."
The morning activities at MPTF included an art exhibit — demonstrating that creativity is ageless — fitness floor demonstrations, tai chi, aquatic zumba, Yogaworks, SingFit and more. Afterwards a large group of industry members — makeup artists, studio executives, actors and agents — along with MPTF supporters and residents joined in a parade led by a Dixieland jazz band across the campus to enjoy an outdoor luncheon.
"This is a time for us to highlight the importance of healthy living to our entertainment community, to come together as an industry to recognize that our own well-being is integrally connected to the well-being of others," said Bob Beitcher, MPTF President & CEO. "Taking Care of Our Own, MPTF's avowed mission, is a responsibility we all share and benefit from and should be our personal mission as well."
MPTF's celebration is one of many events the organization hosts to promote living well among entertainment community members. Other events include MPTF's annual Deal With It: A Women's Conference and What Matters Most, an inspirational summit held last year at The Montage in Beverly Hills.