Emmy Award-winning actress Viola Davis, the Albertsons Companies Foundation and the Entertainment Industry Foundation (EIF) have come together to produce the new Hunger Is "Hungry for More" campaign which focuses on the importance of daily breakfast for children, seeking to provide five million more breakfasts this year to children in need.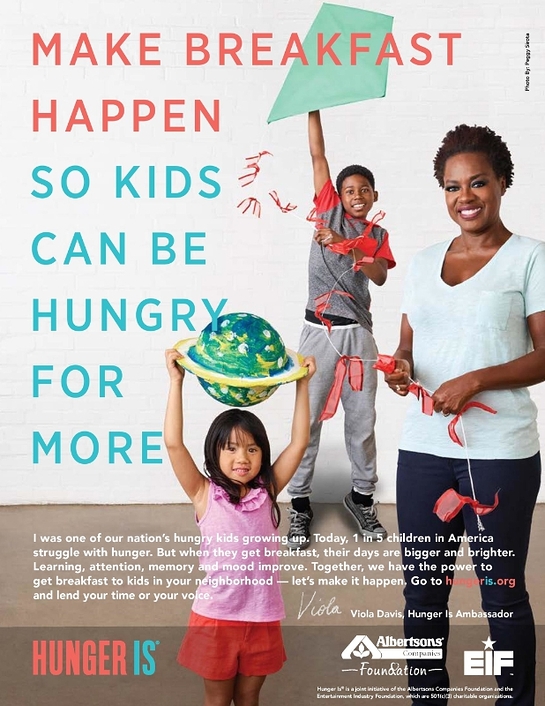 Hunger Is, a joint charitable program of the Albertsons Companies Foundation and EIF, designed to raise awareness and funds to fight childhood hunger in America, will feature this PSA campaign in select Albertsons family of stores during the month of September. The print, broadcast, digital and out-of-home PSA campaign will begin running in August.
Shoppers at the Albertsons family of stores — which include Albertsons, Safeway, Vons, Pavilions, Shaw's, Star Market, Tom Thumb, Randalls, ACME Markets and others — will have the opportunity to fight childhood hunger in their communities by giving to Hunger Is during an in-store fundraising campaign the month of September at more than 2,300 Albertsons family of stores across the U.S. Funds raised through the in-store campaign will contribute toward reaching the five million breakfasts goal.
The program has seen continued success over the last three years, raising $12.5 million to date, to support local hunger programs. The year-round campaign, which kicks off with the September in-store effort, will encourage individuals and communities to unite with the goal of providing healthy breakfast to kids in their neighborhoods and developing a lasting solution to childhood hunger in America.
"I am so thrilled to see our communities coming together to support eradicating childhood hunger in America," said Hunger Is Ambassador Viola Davis. "The 'Hungry for More' public awareness campaign is integral in educating the public on how severe childhood hunger is – in every community – in America. It also demonstrates the importance of children starting off their day with breakfast. They're able to learn more, achieve greater success and live healthier. I am honored to continue to stand with my friends at the Albertsons Companies Foundation and the Entertainment Industry Foundation while working to put an end to this significant problem in our country."
Funds raised will go towards programs focused on eradicating childhood hunger and improving health-related outcomes for hungry children and their families. In the last two years, Hunger Is has awarded 230 grants that have helped local and regional programs provide breakfast and lunch when school is closed and teach families how to most cost–effectively shop and cook healthy food on their limited food budgets.
"When children struggle with food insecurity, they struggle to just enjoy life," said Christy Duncan Anderson, Executive Director of the Albertsons Companies Foundation. "We are committed to ensuring that children throughout the country can start their day with a good meal and are ready to learn, play and grow."
Hunger Is grant recipients were selected with the help of the Hunger Is Advisory Committee (HIAC), comprised of leaders from the most respected hunger advocacy organizations in the U.S. including Center for Hunger-Free Communities, Drexel University, Feeding America, Food Research and Action Center (FRAC), New York City Coalition Against Hunger, Share Our Strength's No Kid Hungry campaign, and WhyHunger. The HIAC provides guidance in defining and addressing needs and makes funding recommendations for approval by The Safeway Foundation and EIF Boards of Directors.
"We are thrilled to have Viola share her personal story and lend her voice again to this cause that continues to be prevalent in our communities. Her story and passion continues to inspire so many to help put an end to childhood hunger," said Lisa Paulsen, President & CEO of the Entertainment Industry Foundation. "1 in 5 children in America struggle with hunger every day, and with this new campaign, we're hoping to change that by providing kids with the breakfast they need in order to grow and succeed all year-long."
More information about the issue is available at HungerIs.org, along with simple ways for individuals to get involved and donate.