On the first stop of her Love Unleashed Tour in Poplar Bluff, MO, country music icon and 14 time Grammy nominee, Martina McBride, and her charity initiative, Team Music Is Love, did something very personal to unleash love on the town – they fed over 300 people in need.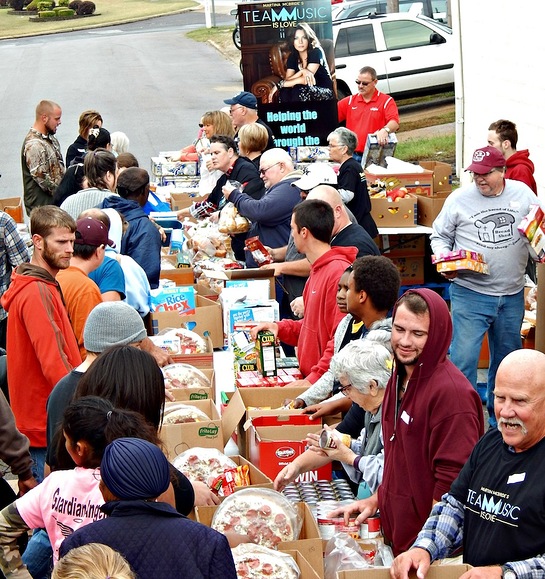 Martina donated a truckload of food and had it delivered to Poplar Bluff a few hours before her performance, on Oct 14, at Black River Coliseum.
"The Martina McBride Mobile Food Pantry" was the first of its kind in partnership with the Bread Shed and Southeast Missouri Food Bank. This happened in an area of the state that has been hit hard with economic loss. The food bank estimates that 1 in 4 people in Missouri may not be able to put food on the table.


Volunteers with the Bread Shed and Martina's team unloaded and distributed food to people in need. Team Music Is Love volunteers were also at Martina's show that night to accept food donations to help the Southeast Missouri Food Bank.


Martina's Instagram post about it is here.
Martina and her team will be doing good works in several of the towns on her Love Unleashed Tour which continued this weekend with a food drive, on Oct 15, to benefit the Dearborn Community Food Pantry around her show in Lawrenceburg, IN.


Through her Team Music Is Love organization, Martina partners with good causes and volunteers to help the towns she's performing in. The organization has helped food banks, homeless shelters, and hospitals.


The organization also helped build a new playground for kids in Atlanta and started a music education program providing musical instruments to girls at an orphanage in Guatemala.


Fans can sign up to be part of Martina's team and get a special charity benefit t-shirt at TeamMusicIsLove.com.
 Find all of Martina's Love Unleashed tour dates at MartinaMcBride.com.