Alt-pop/adult contemporary singer-songwriter Jennifer Saran has teamed up with South African Grammy-winning male choral group Ladysmith Black Mambazo and Grammy and Emmy-winning producer, drummer, singer and songwriter Narada Michael Walden (Producer/Co-writer), known for his work with Whitney Houston, Aretha Franklin, and Mariah Carey, to create her newest single, "Wake Up."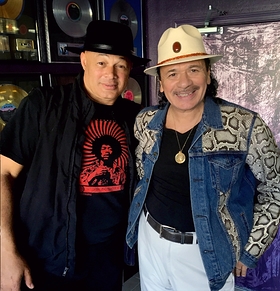 Making a special guest appearance on the track is Grammy-winner and legend Carlos Santana (Featured Guitarist), whose guitar licks generate inspiring vibes. The stunning collaboration is a heartfelt appeal to the world to recognize and address inequality and impoverishment, a cause incredibly personal and important to all the amazing artists involved. "Wake Up" will be featured on Saran's third album, produced and co-written by Narada Michael Walden, which will be released in early 2017.
"Wake Up" is a rousing and uplifting anthem for the world at large. Saran takes meaningful action through her lyrics to encourage change – "It's time to Wake Up!" This worldly, heartfelt, and thought-provoking singer has been dazzling listeners with her message of positivity and encouraging them to stand up to the world's struggles and incite change, first on her debut album Walk With Me (2016), and now on this new song.
Each of the legendary guest artists joining her on the song believe strongly in her cause. Carlos Santana, whose searing guitar work is featured on the track, says Saran's song is "a beautiful mission of sound and healing." Saran adds, "'Wake Up' is the second inspirational song that Narada and I have written. Eighteen months ago we were inspired to write 'Rise Up Time,' which came from an inspired jam session. We had put aside time to experiment with a new idea in the wake of so much hate and violence in America and what came from that time together was this song."
Ladysmith Black Mambazo, who won a Grammy for "Best World Music" in 2015 for their album Live: Singing For Peace Around The World, was brought in through Walden, whose goal was "to make a new sound for the world and inspire a new consciousness in the world – that of waking up." It was Walden's responsibility to create a space between these artists – passionate about the same worldly concerns – with the intention of inspiring a global movement of like-minded people with a single goal in mind: peace.
Proceeds from sales of the song, which is available now on iTunes, will go directly to the Desmond & Leah Tutu Legacy Foundation. As an outspoken defender of human rights and campaigner for the oppressed, Nobel Peace Prize-winner Archbishop Emeritus Desmond Tutu is one of the world's most revered peacemakers. The mission of his US-based nonprofit is to support and promote the creation of a culture of peace throughout the world.
Saran created an accompanying web-based video that was released on the Archbishop's 85th birthday. Watch it here.
Help spread the word of peace with "Wake Up" by clicking here.