The Blue Card, a national nonprofit organization dedicated to aiding Holocaust survivors, held its annual benefit dinner on November 21, 2016, at Jazz At Lincoln Center's Frederick P. Rose Hall.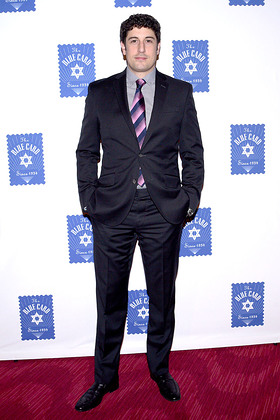 Hosted by Broadway stage and film actor Jason Biggs, the theme of this year's benefit was "Broadway Salutes The Blue Card." It featured a cocktail reception, seated dinner and performances by Broadway, television and film stars Linda Lavin, Tom Nelis and the cast of the upcoming Broadway play "Indecent" by Pulitzer Prize-winning playwright Paula Vogel.
The evening included the presentation of awards to individuals dedicated to supporting the needs of Holocaust survivors and advancing human rights worldwide. This year, The Richard C. Holbrooke Award for Social Justice was presented to U.S. Senator Charles Schumer by author and journalist Kati Marton.
The Irene Hizme Tikkun Olam Award was presented to Brooke Goldstein, human rights lawyer and founder of the Lawfare Project, and the Max L. Heine Humanitarian Award was presented to Leo Rechter, founder and president of the National Association of Jewish Child Holocaust Survivors (NAHOS). Additional honorees included New York City Council, accepted by City Council speaker Melissa Mark-Viverito, and stage, film and television actor Mimi Lieber, The Blue Card President Emeritus.
"The Blue Card is proud to recognize Senator Schumer, Brooke Goldstein, the New York City Council, Mimi Lieber and Leo Rechter, for their dedication to raising awareness of the current plight of Holocaust survivors in the United States who are so critically in need of financial assistance," said Masha Pearl, Executive Director of The Blue Card. "For those individuals that survived the atrocities of the Holocaust, many are struggling to make ends meet in the face of a growing number of medical issues, the rising cost of living and challenges navigating the health systems. The mission of The Blue Card, to help survivors live their remaining years in dignity, is incredibly time-sensitive as at least 50 percent of Holocaust survivors alive today will pass away within the next 10 to 20 years. We greatly appreciate the work of this year's honorees, and are looking to the larger community to help spread awareness about those still in need."
For more information visit: www.bluecardfund.org.
Last year, The Blue Card's 2015 Annual Benefit honored Nobel Peace Prize laureate, human rights activist and Holocaust survivor the late Elie Wiesel, and was presented by Academy Award winner Michael Douglas and author and journalist Kati Marton.