iHeartMedia radio personality Bobby Bones and The Raging Idiots hosted the second annual Million Dollar Show with a star-studded concert at Ryman Auditorium in Nashville, Tennessee which featured The Band Perry, Rascal Flatts, Sam Hunt and Caitlyn Smith.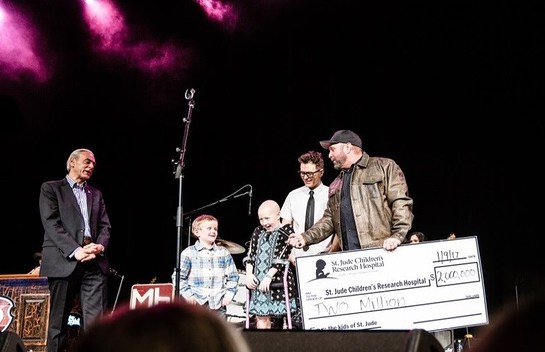 Over the past three years, Bobby Bones has raised more than $5.8 million for St. Jude Children's Research Hospital which is leading the way the world, understands, treats and defeats childhood cancer and other life-threatening diseases.
This annual concert was created to celebrate past fundraising successes for St. Jude Children's Research Hospital. What the sold-out audience did not anticipate was the unannounced performance by country music stars Garth Brooks, Brothers Osborne and Thomas Rhett. A long-time supporter of St. Jude, Brooks surprised Bones with a $2 million oversized check, which helps ensure that families never receive a bill from St. Jude for treatment, travel, housing or food because all a family should worry about is helping their child live.
"We are incredibly humbled by the support of Bobby Bones, The Raging Idiots, Garth Brooks, Brothers Osborne, Thomas Rhett, The Band Perry, Rascal Flatts, Sam Hunt, Caitlyn Smith and the millions of country music fans that support our mission," said Richard Shadyac Jr., President and CEO of ALSAC, the fundraising and awareness organization for St. Jude Children's Research Hospital. "The funds announced last night in support of our mission are staggering and are another example of the country music industry's incredible support of St. Jude for more than 20 years. These funds are critically important in helping St. Jude doctors and scientists find cures and save the lives of children in every community who are battling cancer and other life-threatening diseases."