The LA Kings and the club's American Hockey League affiliate – the Ontario Reign – teamed up to present Ronald McDonald House Inland Empire with a check for $1 million at last week's LA Kings game versus the St. Louis Blues.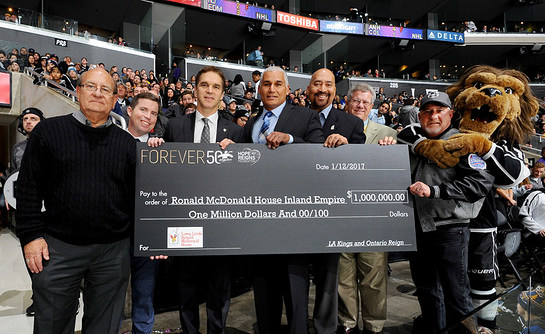 The donation, presented by Kelly Cheeseman, COO AEG Sports, and Luc Robitaille, President Business Operations, LA Kings, during the game, helped to expand the facility, which reopened on December 11 – doubling the amount of guest rooms and creating new team-themed family and children's recreation rooms.
"The Kings and the Reign are partners on and off the ice," said Kings President, Business Operations Luc Robitaille. "Since the Reign began play in the AHL last season one of our cumulative goals was to be very active in the community. We feel this is a great example of that commitment while benefitting a group, the Ronald McDonald House, that is very close to our hearts."
"Due to the sheer geographic size of the community it serves, our Ronald McDonald House has been operating at more than max capacity for years," said Reign President Darren Abbott. "Contributing to this capital campaign will ensure that more families will have a comfortable place to call home while their children visit the hospital. We thank our fans, our community partners and the Kings for allowing us to collaborate on such a great cause."
The $1 million gift expanded the House to 54 guest rooms in total and includes Kings and Reign-themed family and children's recreation rooms complete with new TVs, furniture and bubble hockey.
The Ronald McDonald House Inland Empire opened in 1996 with 21 guest rooms for families of critically ill and injured children receiving specialized medical treatment at Loma Linda University Children's Hospital. More than 50,000 people from throughout the Inland Empire have called the Ronald McDonald House their "home away from home."
This is the latest charitable effort from the Kings in their 50th Anniversary season, which is highlighted by the franchise's Forever 50 initiative. Through the great support and partnership with McDonald's of Southern California, the Kings Care Foundation has committed over $2 million to the Ronald McDonald House Charities over the past 5 years.
The Kings and Kings Care Foundation launched the Forever 50 program with a mission of engaging players, alumni, staff and fans to perform 50 charitable acts throughout the city of Los Angeles during this milestone season. The legacy program will feature monetary and in-kind donations, awareness campaigns and volunteerism efforts that will touch nearly every part of the community.