The Prince's Trust annual Invest in Futures gala dinner really delivered, as stars of the celebrity and financial communities recently came together to raise £1.3million for vulnerable young people.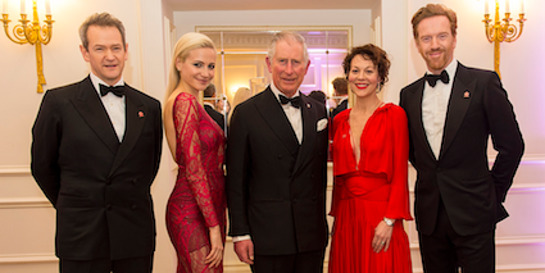 This year's event saw supporters gather at The Savoy for a fabulous night of fundraising and fun, featuring a unique performance from Jamie Cullum and Trust supported young people.
Hosted by Alexander Armstrong and Helen McCrory, the event kicked off with Pixie Lott performing an acoustic version of David Bowie's Heroes to HRH and the guests.
"Tonight I've met some of the amazing young people The Trust has helped and it's inspiring to hear how they've turned their lives around," said Pixie Lott.
Among the glamorous attendees were Damian Lewis, Felicity Kendal, Stephen McGann, Colin Salmon, Anna Wilson-Jones, Dame Joan Collins, Jeremy Irons and Joely Richardson. But, despite the high flying company, the real stars of the night were Zoe, Cat, Umar, Megan and LJ.
Zoe, who was helped by The Trust, and is now employed as an Outreach worker, spoke about her journey. Her story powerfully illustrated to guests how their pledges will translate into life changing experiences for young people through the amazing work that Prince's Trust staff do every day.
"The Prince's Trust save lives," said Damian Lewis. "Lives with great potential, that is what inspires me about this organisation."
In a first for the event, four Prince's Trust Young Ambassadors then took to the stage and delivered a jaw-dropping performance of their personal stories, accompanied by Jamie Cullum on the piano. Cat, Megan, Umar and LJ brought the house down with their honesty and courage.
Now in its 12th year the Invest in Futures gala dinner has raised almost £21 million for the charity and helped to change the lives of tens of thousands of young people by giving them the skills and confidence they need to move into work, education or training.
Tara Leathers, Director of Fundraising at The Prince's Trust, said: "The Invest in Futures event is always special, from the powerful stories of lives being transformed, to the huge sums raised. We couldn't do it without the amazing support of the financial community."
Source: Prince's Trust