A blind state supreme court justice. A deaf teen girl who word slams in sign language. An inner-city schools basketball coach born without fully-formed arms. A double hand amputee meets the love of his life who doesn't see his disability.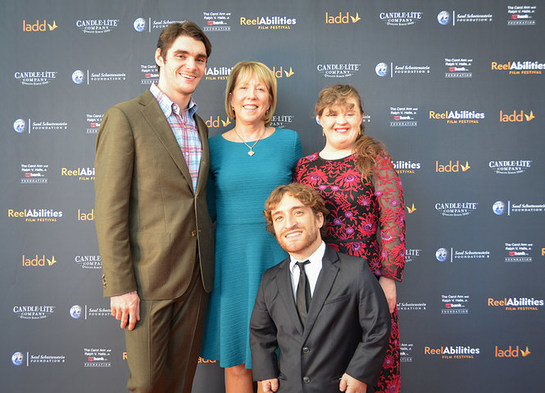 These stories and more were told at the largest and most unique film festival in the country celebrating the lives and art of people with disabilities (PWD), the ReelAbilities Film Festival held March 9 – 12 in Cincinnati, Ohio. More than 10,000 people attended the Hollywood-style film extravaganza showcasing dozens of moving and thought-provoking documentaries, features and shorts about people living and achieving with disabilities.
The festival featured appearances by more than a dozen celebrities who live with varying disabilities including:
• RJ Mitte, best known for his role as Walter "Flynn" White, Jr. on the award-winning TV thriller, "Breaking Bad;"
• Ali Stroker – known for her role in "Glee," and as the first Broadway actress in a wheelchair to appear on a Broadway stage.
• Jamie Brewer – known for her role as Adelaide 'Addie" Lagdon in "American Horror Story," and as the first model with Down syndrome to walk the runway at New York Fashion Week.
• Lauren Potter – best known as Becky Jackson in the popular television show, "Glee."
• Nic Novicki – standup comedian known for his recurring role on "Boardwalk Empire."
• Kurt Yaeger, a fan favorite on "Sons of Anarchy," and a recurring role actor on "NCIS: Los Angeles;"
• John Lawson, A television, film and commercial actor with past roles in the long running television crime dramas, "Law and Order," "Law and Order: SVU" and "FX AMERICAN HORROR STORY: FREAK SHOW."
The festival presents real-life PWD stories that are robust, inspiring and de-stigmatizing with the goal of transforming perceptions around people living with disabilities.
"I've been working my whole life to work with it and evolve with it," said actor RJ Mitte of his cerebral palsy diagnosis at age 3. "Growing up, I was never taught to use the words 'can't' or 'won't.' I was taught to believe that I can achieve anything I want and that disability does not define me. This festival focuses on how differences strengthen us individually and as a community and I'm excited to be a part of that message."
Among the notable films and screenings over the weekend were "The Astronaut's Secret," starring astronaut Rich Clifford who is managing Parkinson's Disease; and "Chimes for Tyler," about an autistic savant with the exceptional skill of distinguishing the sounds of the entire inventory of Woodstock's chimes. Cult favorite "Spring Break Zombie Massacre," written and acted by Downs Syndrome best friends Sam Suchmann and Mattie Zufelt was also featured.
Other special events at the festival included celebrity meet and greets and panel discussions; an interfaith breakfast; a veteran's reception and brunch; and numerous acting and filmmaking-related workshops.
The Cincinnati ReelAbilities Film Festival has grown exponentially since its debut year in 2013 when a dozen films were screened by 1900 attendees. For more information on the Cincinnati ReelAbilities Film Festival, visit www.CincyRA.org.