Actor Colin Farrell was the featured guest at Gatepath's annual The Power of Possibilities event.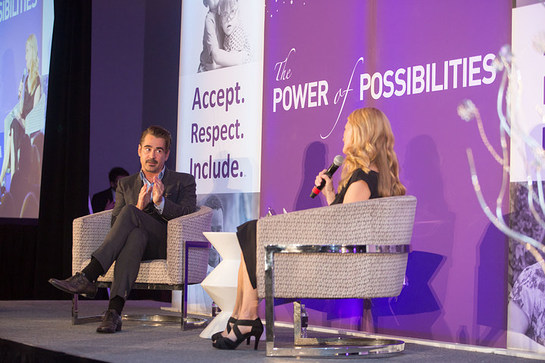 As a parent of a child with special needs, Farrell has a personal connection to Gatepath's mission of creating a world where people of all abilities are fully accepted, respected and included. The accomplished Irish-born actor, who has a 13-year-old son diagnosed with Angelman syndrome, shared his insights and journey as a parent in an open and heartfelt conversation moderated by Bay Area journalist Diane Dwyer.
"I learned early on that you can't let others put limitations on your child," Farrell said. "Your child will decide what his or her limitations will be." Farrell went on to recount the powerful story of how he was told his son would probably never walk. "Think about how important a child's first steps are in their development. When my son took his first steps after we heard he would never walk, it was an important lesson for us to never let others put limits on his abilities."
When discussing his wishes for his son and others with special needs, Farrell spoke of the importance of inclusive schools and organizations – such as Gatepath – that allow people of all abilities to be bold, compassionate individuals.
The Power of Possibilities brings like-minded people together, raising awareness for children, youth, and adults with special needs and developmental disabilities. "It shines a light on how our differences are beautiful and reminds us to see with our hearts in addition to our eyes," said Gatepath CEO Bryan Neider.
"This is an event for everyone who wants to create a community that is healthy, friendly, thriving, and inclusive," said Neider. "It's for those who want to join Gatepath in celebrating the accomplishments of those we serve who have overcome obstacles to achieve meaningful employment, providing a path to independence and fulfilling their dreams."
In addition to the discussion with Farrell, Gatepath announced the recipient of this year's Neal Poppin Award, which honors an individual whose determination, spirit, and enthusiasm transcends any limitations he or she has faced. This year's award recipient, Fernando Arce, was born nearly three months premature. He weighed less than two pounds, was in the hospital for several months after his birth, and was not expected to live.
Over time, Fernando overcame remarkable odds of being both blind and profoundly hearing impaired, and exceeded expectations in his work and personal endeavors. He is now employed at the The Magnolia of Millbrae, a retirement community, where his gentle nature and warm spirit are an inspiration and lesson for all.
In a video tribute to Fernando, Vincent Muzzi, owner of The Magnolia of Millbrae, spoke about how the interaction between Fernando and other staff members helps everyone benefit from working in an inclusive environment that embraces differences, and enriching all. "When hiring someone with a disability, it's not just the employee with the disability who gains an advantage in the workplace," said Muzzi. "It's a working relationship that benefits everyone involved; it's beyond the paycheck."
Muzzi also commented on the advantages that businesses can gain by following inclusive hiring practices. "It's important to provide opportunities for Fernando and others with special needs and disabilities," said Muzzi, "but it's also important to note that businesses can derive a great benefit from this type of hiring practice. I think of it as a win-win."
"Employers like The Magnolia of Millbrae who partner with Gatepath are not only providing meaningful employment," Neider added, "but they are also helping create opportunities for independence and building self-confidence for future success in all phases of their life."
The Power of Possibilities was sponsored by Bailard, Peggy Bort Jones, Cotchett, Pitre & McCarthy, Gatepath Auxiliary, GoPro, Sutter Health Mills-Peninsula Health Services, Boston Private Bank, Electronic Arts, Linda and Richard Leao, Carole Middleton Foundation, Norman S. Wright Mechanical Equipment, Bon Appétit Management Company, Jones Lang LaSalle Incorporated, San Francisco Airport Marriott Waterfront, Wells Fargo, Kathryn and Richard Breaux, CBRE, Elaine and George Cohen, Diane Christensen Mason and Charles H. Mason Jr., D'Elia Construction Inc., Palo Alto Medical Foundation, Barbara and Paul Regan, and Lilli Rey.
"There's no greater joy than watching individuals with special needs and disabilities flourish and attain their dreams," said Kate Breaux, President of the Gatepath Auxiliary, who co-hosted The Power of Possibilities. For more than 66 years, the Gatepath Auxiliary has partnered with Gatepath and is fully committed to the mission of creating a world where individuals of all abilities are accepted, respected and included. "It's wonderful to come together for an event like this to celebrate and recognize such incredible and inspirational achievements by people throughout our community."