This week, the Alliance for Women in Media Foundation (AWMF) handed out the 42nd Annual Gracie Awards to a packed house at the Beverly Wilshire Hotel in Beverly Hills, Calif.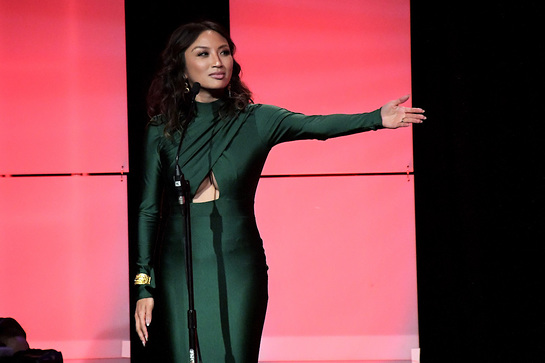 First-time host Jeannie Mai led the show with exuberant energy and Gracies Impact Award recipient Rachel Platten treated attendees to a stellar performance.
The Gracie Awards, which each year celebrate female luminaries on and off the screen for outstanding achievements across radio, television, cable and interactive media, hosted award recipients such as Lifetime Achievement Honoree Debbie Allen, Rachel Bloom, "This is Us" cast members Mandy Moore, Chrissy Metz, Susan Kelechi-Watson, as well as Natalie Morales, Lisa Ling, Dove Cameron, Garrett Clayton and Lynn Whitfield. Presenters and additional guests included Jesse Williams, Wendi McLendon-Covey, Laura Ling, Leigh-Allyn Baker, Nischelle Turner, Debbie Matenopoulos, Vivian Nixon, and more. This year's social ambassador was Jillian Rose Reed and the ceremony was executive produced by Vicangelo Bulluck. The complete list of previously announced honorees can be found here.
Highlights from the show include:
• Host Jeannie Mai kicked off the evening with an uplifting message for the women in the room. "I have the feels because I am actually standing in front of what I call real life wonder women, who use their superpowers every day in their work," said Mai, attributing her nerves to the energy in the room. "These incredible women are laying the groundwork, breaking through barriers, and carving out paths of opportunities for other women to follow, and inspiring uncharted journeys ahead."
• Actress Donna Lynne Champlin received the first award of the evening for her supporting role in "Crazy Ex-Girlfriend" and gave an acceptance speech that had co-star Rachel Bloom in the audience in tears. "I would like to accept this award on behalf of all the women who have been told they're too fat, too old, or too ugly to be on television," said Lynne Champlin as she received a standing ovation.
• The Gracie Awards featured some sisterly love on stage as Laura Ling presented her sister Lisa Ling and executive producer of "This Is Life with Lisa Ling," Amy Bucher, with the award for Best Non-Fiction or Reality. "We feel so privileged to have the opportunity to be welcomed into people's lives, to allow us to come into family's living rooms and tell stories," said Lisa. "It's a responsibility we take very seriously."
• Co-creator, writer, and star of "Crazy Ex-Girlfriend" Rachel Bloom presented the award for Best Drama to the cast of "This Is Us," which was accepted by Mandy Moore, Chrissy Metz, Susan Kelechi Watson, and executive producer Jess Rosenthal.
• Debbie Allen was presented with the night's top honor, the Gracies Lifetime Achievement Award, by actor Jesse Williams and daughter Vivian Nixon. "This is a time for women to speak up loudly and to stand tall. I truly am honored as is my family and my own tribe. Thank you for continuing to inspire us to honor ourselves," said Allen.
• International pop star Rachel Platten, who was honored with the inaugural Gracies Impact Award, serenaded the star-studded audience with a powerful performance of her hits "Fight Song" and "Stand By You."