The Jerry Garcia Foundation will once again take part in Dead & Company's Charity Outreach Initiative at the Participation Row Charity Village as part of this summer's concert tour.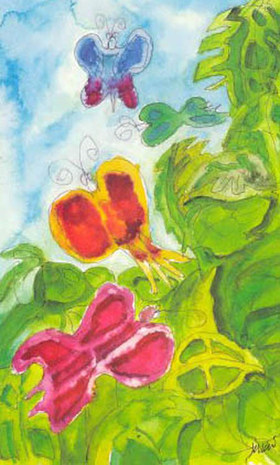 This year, the nonprofit organization hopes to inspire butterfly garden plantings and interactive art in partnership with the Save Our Monarchs Foundation.
The Jerry Garcia Foundation will distribute free butterfly garden seeds and pollinator seeds to the first 300 people at each concert who visit their tent at the Participation Row Charity Village on the concert tour. The audience is invited to participate in a new interactive art project by posting photos of their gardens and nature on the Jerry Garcia Foundation Facebook Page. The photos will be added to a visual art collage and shared on social media with the tags: #SaveOurMonarchs #SaveOurBees #RippleEffect.
"Save Our Monarchs has generously donated thousands of Non-GMO milkweed seed packets and pollinator garden seeds to the Jerry Garcia Foundation. We are sharing these seeds in hopes that gardens will be planted to nourish butterfly and bee populations across the US," said Keelin Garcia, Jerry's youngest daughter and Co-Founder of the Jerry Garcia Foundation.
The Save Our Monarchs Foundation is a grassroots organization devoted to the preservation of the Monarch butterflies, primarily by planting milkweed plants, which are the Monarch caterpillar's only source of sustenance.
Participation Row is a charity outreach program initiated by the nonprofits REVERB and HeadCount. The program invites environmentally and socially responsible organizations to highlight their charitable activities in a tent village at each concert on the tour.
"We are grateful to Dead and Company, Reverb and HeadCount for their continued support and the invitation to participate in this charity outreach program. Jerry was an environmentalist who advocated for the preservation of the rainforests and the coral reefs. It is a blessing to continue this work in his honor," said Manasha Garcia, Jerry's wife and Co-founder of the Jerry Garcia Foundation.
The Jerry Garcia Foundation has invited the following nonprofit partners to attend Participation Row as charity guests: Alive Inside Foundation, Bread and Roses Presents, Fender Music Foundation, Friends of the Uptown, Hard Rock Heals Foundation, HoneyLove Urban Beekeepers, One Percent for the Planet, Playing for Change Foundation, Psylodelic Gallery, Save Our Monarchs Foundation, Shimer College Great Books, WildCare and WhyHunger.
The Dead & Company Band features the Grateful Dead musicianship of Bob Weir, Mickey Hart, and Bill Kreutzmann along with guitarist/vocalist John Mayer, bassist Oteil Burbridge, and keyboardist Jeff Chimenti.
Bob Weir, Grateful Dead Co-Founder, is an advisory board member of the Jerry Garcia Foundation.