The PEACE Fund's 3rd annual Poker tournament hosted by World Championship WSOP player Jamie Gold and 'HIGHLANDER' actor, director and Peace Fund Founder, Adrian Paul will benefit children affected by Hurricanes Harvey and Irma.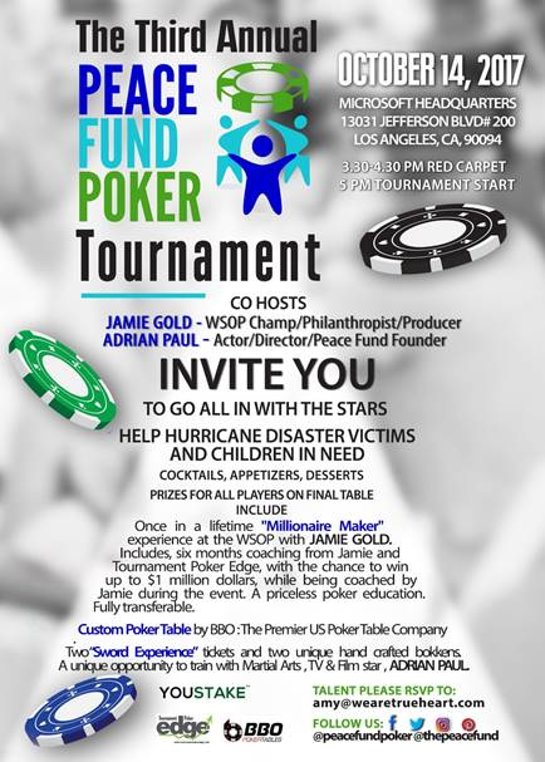 The Peace Fund has partnered with major celebrities and the charity Books Between Kids in Houston to send books and school supplies to six schools in Houston that were completely flooded and lost everything and will also be providing books and school supplies to schools affected in Florida.
Celebrities are lining up to support the children affected by Hurricanes Harvey and Irma with The Peace Fund in the following ways:
1 Participate as a VIP poker player in the celebrity poker tournament to help raise critical funds needed for the kids affected by the hurricanes in Texas and Florida.
2 Visit The Peace Fund's Interactive Storytellers booth at the event where they will be filmed reading a children's book. These uplifting and entertaining videos will be sent to non-profit partners in Texas and Florida to be played for school-children to inspire a love of reading and to offer hope during this difficult time. Copies of all of the books read will be sent to the kids affected by the hurricanes.
3 Donate books and school supplies for the children to be directly shipped to non-profit partners in Texas and Florida. More info here.
4 The Peace Fund can be found on Twitter and Instagram @ThePeaceFund.
The Final Table offers the incredible prize of a once in a lifetime opportunity to be coached for six months by poker champ Jamie Gold and Tournament Poker Edge – as well as a seat in the Millionaire Maker WSOP tournament, where Jamie will be by your side and coaching you throughout the tournament.
WHAT: The Peace Fund's 3rd Annual Celebrity Poker Tournament
WHEN: Saturday, Oct. 14, 2017.
Red carpet 3.30 PM-4.30 PM. Poker tournament: 5.00 PM.
WHERE
: The Reserve at Microsoft Headquarters, 13031 W. Jefferson, Playa Vista (just E of Lincoln Blvd.)
WHO: ( Celebrity attendees from the 2nd Peace Fund tournament)
• Adrian Paul (Highlander, Celeb Host)
• Bai Ling (The Crow)
• Beth Hall (Mom and WILD)
• Benito Martinez (Sons of Anarchy)
• Carl Weathers (Rocky, Predator)
• Cas Anvar (The Expanse)
• Don Most (Happy Days)
• Eme Ikwuakor (Extant, Colony)
• Jamie Gold (EMCEE/HOST)
• Joseph David Reitman (CSI Miami/Monk)
• Kamil McFadden (K.C. Undercover).
• Kate Linder (The Young and the Restless)
• Kelly Perine (21 Jump Street)
• Kenny Johnson (Sons of Anarchy)
• Kyle Schmid (Being Human)
• Lou Diamond Phillips (Young Guns)
• Martin Klebba (Pirates of the Caribbean)
• Mekhi Phifer (Actor-Torchwood)
• Mimi Rogers (Starz' "Ash v. Evil Dead")
• Patrick Kilpatrick (Minority Report)
• Pat O'Brien (award-winning broadcaster)
• Rex Linn (CSI Miami)
• Roger Cross (24)
• Cheryl Hines
• Tony Denison (The Closet/Major Crimes)
• Vincent Ward (The Walking Dead)
• Yancey Arias (NCIS New Orleans/ CBS)
Other celebrities confirmed to attend include Camryn Manheim, Shanna Moakler and Wil Wheaton, with more being confirmed daily.
For more info, click here.