The American Cancer Society's Giants of Science gala on October 14 at the Four Seasons Los Angeles at Beverly Hills will honor global ambassador and jewelry designer, Simone I. Smith, and six American Cancer Society-funded researchers from UCLA, City of Hope, and the California Institute of Technology whose work contributes to raise funds for the Society's groundbreaking research programs.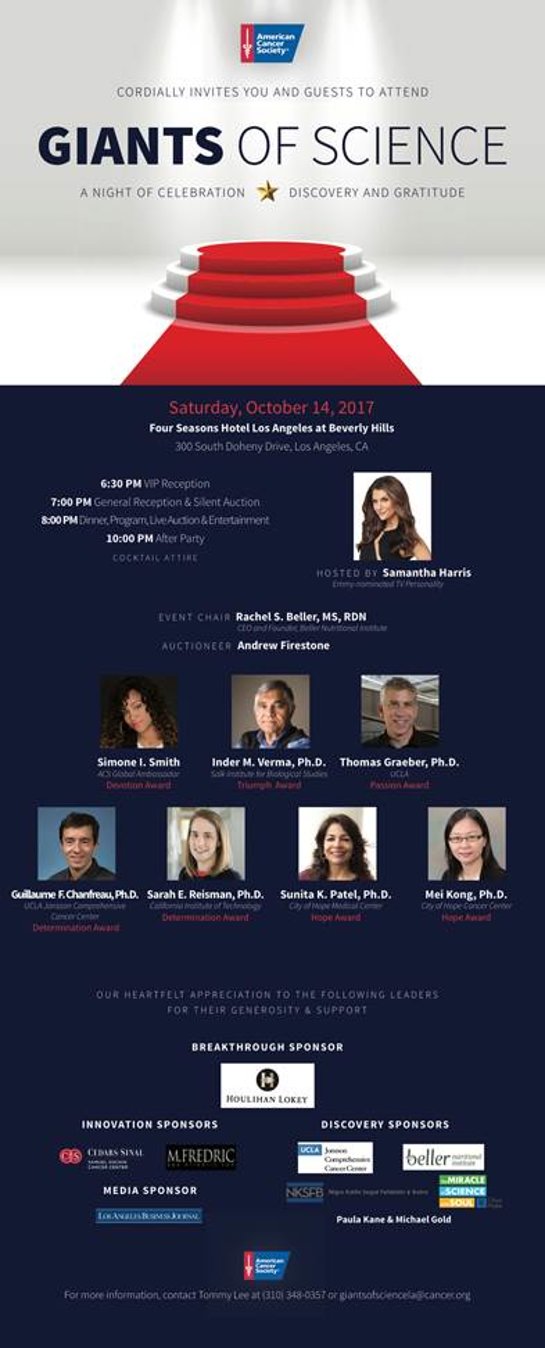 The American Cancer Society is the nation's largest not-for-profit investor in cancer research, second only to the federal government. Since 1946, it has funded more than $4.3 billion in cancer research, including the early work of 47 Nobel Prize-winning scientists. Nationally, the Society currently funds 732 grants for more than $390 million, 95 of those – totaling almost $48 million – in California, including almost $21 million at five Los Angeles County institutions.
Giants of Science honors current research grant recipients whose work has been selected by a national committee for commendation and individuals who have turned their private cancer experience into a public learning opportunity and furthered the Society's attack on cancer from every angle. This year's research honorees are Guillaume F. Chanfreau, PhD of UCLA Jonsson Comprehensive Cancer Center; Thomas Graeber, PhD, of UCLA; Mei Kong, PhD of City of Hope Cancer Center; Sunita K. Patel, PhD of City of Hope Medical Center; and Inder M. Verma, PhD of the Salk Institute. Simone I. Smith, a thirteen-year cancer survivor and seven-year American Cancer Society global ambassador, continues to instill hope for all people suffering from cancer, and she's making a difference within the cancer community by giving back through her jewelry collection.
The evening is chaired by Rachel Beller, MS, RDN, CEO and founder of Beller Nutrition Institute. California State Controller Betty Yee is honorary chair and Emmy-nominated former Dancing with the Stars co-host Samantha Harris will host the evening. Tarek El Moussa of Flip or Flop will also make a special appearance as the program's Mission Speaker. Stefano and the Inconvenient Truth Band (American Idol) will provide entertainment.
The evening is sponsored by Beller Nutrition Institute, Samuel Oschin Comprehensive Cancer Institute; City of Hope; Houlihan Lokey; M. Fredric, Nigro Karlin Segal Feldstein & Bolno; and Paula Kane and Michael Gold. LA Business Journal is media sponsor. For tickets and sponsorship information contact Tommy Lee at 310-3 48-0357 or giantsofsciencela@cancer.org.