Thursday evening, Planet Hollywood Resort & Casino headliner Ringo Starr and wife Barbara Starkey, through their Lotus Foundation, along with Caesars Entertainment's President and CEO Mark Frissora each donated $100,000 to the Nevada Resort Association's Vegas Strong Fund.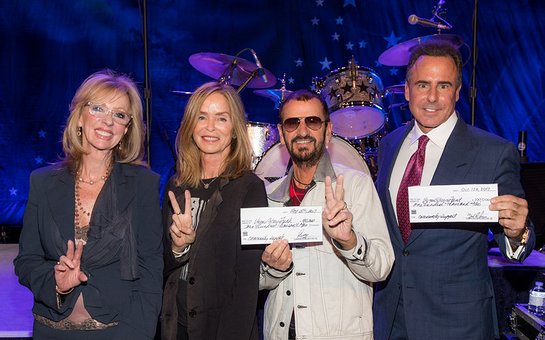 This is part of Caesars Entertainment's total contribution of $2 million to support the victims of the Las Vegas tragedy and their families.
Jan Jones Blackhurst who serves as Chairwoman of the Nevada Resort Association was present to receive the donations which will go to their Vegas Strong Fund. The fund was launched yesterday to pool together resources to contribute and distribute additional funds to those impacted by this tragedy and to support community organizations and its brave first responders.
In light of the tragic shooting in Las Vegas on October 1, 2017, Caesars Entertainment (NASDAQ: CZR), its employees, family of chefs and entertainers have come together to organize $2 million in donations to assist those affected by this terrible event and to help our community heal. To join in supporting the Vegas Strong Fund, click here.