Nanci Ryder's "Team Nanci" once again participated in the annual LA County Walk to Defeat ALS, on Sunday, October 15, 2017 at Exposition Park in Los Angeles.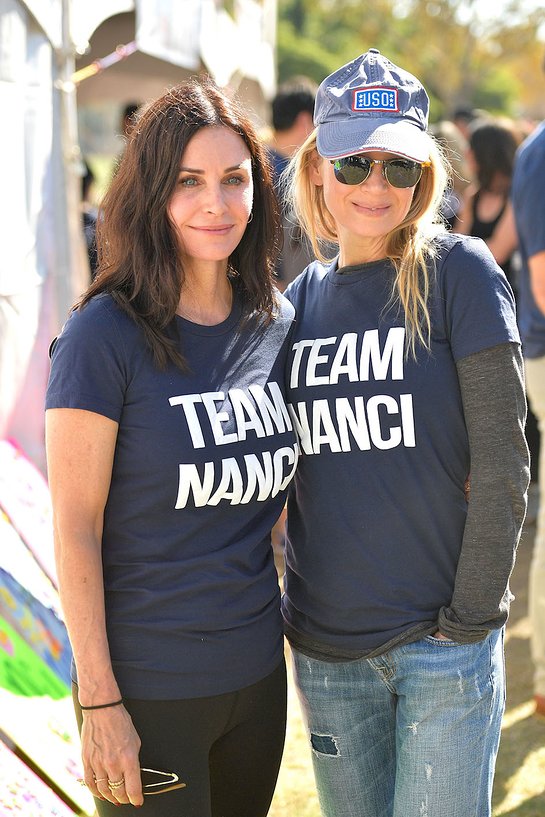 After being diagnosed with ALS in 2014, Nanci bravely decided to share her battle with the public to raise awareness and support for the ALS community. She and her many friends are "Team Nanci," and raised over $100,000 for the cause as they participated in the 15th Annual LA County Walk to Defeat ALS, hosted by The ALS Association Golden West Chapter. The 1-mile walk was accessible and open to the public and all funds raised supported the mission priorities of The ALS Association Golden West Chapter in care services, public policy, and research. The event had over 2,200 participants who raised nearly $500,000 for the cause.
Team Nanci included Courteney Cox, Renee Zellweger, Matt Bomer, Justine Bateman, Bryan Lourd and Bruce Bozzi, Don Diamont, Cindy Ambuehl, Kylie Rogers, and Kate Linder, and additional LA County Walk to Defeat ALS participants included Mari Winsor, Lara Flynn Boyle, and Elizabeth Berkley.
Amyotrophic lateral sclerosis (ALS), also known as Lou Gehrig's Disease, is a fatal, neurodegenerative disease that attacks nerve cells in the brain and spinal cord. People with ALS lose their ability to move, speak, swallow, and eventually the ability to breathe, while all five senses continue to function normally. ALS can strike anyone, at any time. It knows no racial, ethnic, or socioeconomic boundaries, though military veterans are at twice the risk. The average life expectancy of a person with ALS is two to five years from diagnosis. At this time, there is no known cure. The mission of The ALS Association is to discover treatments and a cure for ALS, and to serve, advocate for, and empower people affected by ALS to live their lives to the fullest. The Golden West Chapter serves people with ALS and their families in 31 counties throughout California and in the state of Hawaii. Our vision is to create a world without ALS. Everything we do advances the search for effective treatments and a cure.