Prince Harry attended the WellChild annual award ceremony in London this week.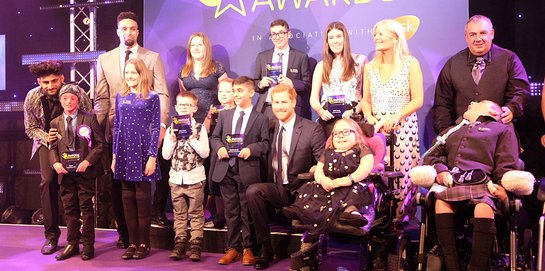 WellChild is the national charity for seriously ill children and their families. 2017 marks ten years of Prince Harry's Patronage.
Before the ceremony started Prince Harry met all the young winners of each award category.
His Royal Highness then presented the Award for the Most Inspirational Child (aged 4-6) to Erin and Finley. Erin, known her positivity & bubbly personality, has been fighting Leukaemia for 5 years & is raising funds for her oncology unity. Despite suffering from Ehlers Danlos Syndrome, Finley never complains and is an inspiration to all those who meet him.
The annual Awards celebrate the inspiring qualities of some of the country's seriously ill young people, and the dedication of those who go the extra mile to keep children health and happy, including outstanding health, social are and education professionals.
Following the ceremony Prince Harry gave a speech, commending the courage of seriously ill children and their families:
"This is my tenth year as WellChild's patron and of course I'm honoured to be here at another awards ceremony celebrating the powerful work of this organisation.
"The winners may be different each year, but their stories are all equally moving and inspirational.
"Many of the children and young people WellChild support have been dealt the hardest card imaginable in life, and yet their courage inspires the most incredible strength in those around them.
"I meet the parents, who are often powerless to change their children's fate, but will do everything they can to make the most of each moment. I see the nurses and clinical staff, who become a lifeline for these families that just want to be at home rather than in hospital.
"But what everybody has in common is the sense of grace, positivity and good humour that creates a community of support. Knowing that someone is on your side, understands what you are going through, and will carry you through it, is a lifeline that should not be underestimated.
"These awards were created to shine a bright light on an amazingly brave group of children and young people, on their lives, and on the resolve they and their families have shown to overcome such challenges. Life for families caring for seriously ill children is exceptionally tough. And without WellChild it is even tougher."
Find out more about WellChild and the vital work they do HERE.
Source: Royal.uk