Last week, Save the Children, the leading organization investing in childhood, honored Grammy-winning songwriter and producer Ryan Tedder of OneRepublic; Chobani founder and CEO Hamdi Ulukaya; and the organization's philanthropic corporate partner BVLGARI North America.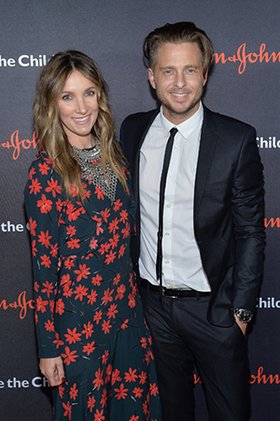 The event, which took place on Wednesday, Oct. 18, 2017, at The American Museum of Natural History in New York City, was hosted by NBC's Craig Melvin and featured a special performance by British singer-songwriter Leona Lewis.
Now in its fifth year, the Illumination Gala benefits Save the Children's efforts to give more children a stronger start in life by helping end preventable maternal, newborn and child deaths and by supporting early childhood education. In recognition of the occasion, Save the Children celebrated each of the honorees for their achievements in giving children a brighter future:
Jennifer Garner presented The Visionary Award to BVLGARI North America for its enduring commitment to supporting children in need in the United States and around the world. The award was accepted by BVLGARI Group CEO Jean-Christophe Babin. Since beginning its unique partnership in 2009 with Save the Children, Bulgari has raised over $70 million globally through sales of an iconic Save the Children jewelry collection. More than half a million people have purchased the signature pieces, including a ring, a bracelet and a pendant. Funds raised through the partnership have been invested in 100 projects in 33 countries, reaching more than one million at-risk children and youth through education, emergency response, poverty reduction and youth empowerment programs. In the United States, Bulgari is a generous supporter of Save the Children's early childhood education programs.
While accepting the award, Jean-Christophe Babin expressed his appreciation, "The 'Visionary Award' Save the Children presented Bulgari with is a recognition I'm particularly proud of. There is nothing more rewarding than knowing that – thanks to our vision – we are transforming the lives of at risk children in the US and around the world."
Leona Lewis presented The Voice Award to Ryan Tedder, Grammy-winning songwriter, producer, and front man of the multi-platinum selling band OneRepublic, who was recognized for his extraordinary dedication to speaking up on behalf of the world's most vulnerable children. In addition to supporting Save the Children's humanitarian relief efforts on the conflict in Syria and in the Philippines following Typhoon Haiyan, Tedder used the power of his voice on the OneRepublic song "Feel Again." The song served as the backdrop in 2013 for an Ad Council PSA for Save the Children's Every Beat Matters campaign, which helped millions of children in poor countries survive their first five years of life. Tedder said the song was inspired by actual heartbeats of children in Guatemala and Malawi, where frontline health workers work every day to keep kids healthy. As part of the campaign, Tedder visited Save the Children's newborn and child survival programs in Guatemala, and donated proceeds from sales of the song to Save the Children. His foundation, The Ryan & Genevieve Tedder Foundation, also supports children through education and youth development.
Ryan expressed his appreciation for Save the Children, "They're giving hope. And they're hitting people where it matters – the youth. They're impacting lives before we form our opinions, before we get old and you can't change. When you're young, you're impressionable, and if you show love to a kid unencumbered, it has a lasting effect that transcends ideological beliefs, war, factions, famine, all of it. So for that, I want to give a round of applause to Save the Children."
Dr. Jill Biden presented The Humanitarian Award to Hamdi Ulukaya, founder and CEO of the #1 U.S.-based greek yogurt brand Chobani, who was recognized for his courageous leadership on behalf of refugees. Ulukaya has demonstrated an inspiring commitment to provide resettled refugees with a path to a brighter future by embracing them as valued employees at Chobani. In 2015, he signed the Giving Pledge, committing the majority of his personal wealth to helping displaced people and founded the Tent Foundation, which forges innovative partnerships with NGOs, business and governments to improve the lives of refugees all over the world. As an entrepreneur and devoted philanthropist, Ulukaya is changing the conversation around the global refugee crisis – calling on the global community to recognize the human rights of refugees and put an end to displacement once and for all.
Upon accepting the award, Hamdi reminded the audience "There is no time to waste. There is no time to pause. There is no time to lose an opportunity to save one more child." He later went on to invoke a call to action for fellow corporate leaders saying, "This is the time for businesses, CEOs, entrepreneurs to rock. Right now. And they are doing it. We see it. We need more of it."
Additionally, Jennifer Garner recounted her recent relief efforts with Save the Children in Texas, "As flood waters receded, we expanded our response to include childcare programs because childcare centers…provide essential care after a disaster so that parents can rebuild their lives, put their lives back together, return to work. And it's a place of comfort for kids because they depend on the security of their daily routine, so Save the Children has chosen to make childcare recovery one of our signature programs in the United States, and today we're helping more than 1,500 centers in Texas restore their services."
President & CEO of Save the Children, Carolyn Miles, spoke to the progress being made and Save the Children's commitment to continue its efforts, "In 1960, child mortality was 18.5 percent. In 2015, child mortality was down to 4.3 percent. That means millions more children are living each year. That's great news because no child should die from a preventable cause. But we won't be satisfied – until we get to zero."
"We were happy in Syria, but there was only a little bread to eat. Some people died. Now I live in St. Louis, Missouri. My school is beautiful. I like math because I learn the plus and minus, and now I can say it in English and Arabic."
Dr. Jill Biden pressed the importance of helping children like Mahmoud, "There is no group of people in this world who has less power or is more defenseless than children. The powerless children of our world need a powerful champion, and they have one in Save the Children."
Notable guests in attendance included Syrian refugee family and beneficiaries of Save the Children Ezaat, Faiqa, Faour, Bashar, Mohammad Nour, Mahmoud, and Ziad Aloqla, BVLGARI Group CEO Jean-Christophe Babin, Save the Children Board Chair Dr. Jill Biden, Vice President Joe Biden, Save the Children beneficiary partner and owner of JoAnn's Day Care in Houston, JoAnn Davis, Johnson & Johnson Executive Vice President and World Chairman, Pharmaceuticals Joaquin Duato, actress and Save the Children Ambassador Dakota Fanning, Save the Children Ambassador, Trustee and Gala Honorary Chair Jennifer Garner, award-winning journalist Tamron Hall, fashion designer, philanthropist and Gala Co-Chair Gabriela Hearst and Austin Hearst, Save the Children Tennessee beneficiary, Anna Marie Hickerson, Save the Children President & CEO Carolyn Miles, BVLGARI North America CEO Daniel Paltridge, ESPN analyst and former NFL Coach Rex Ryan, Save the Children Senior Vice President, U.S. Programs & Advocacy Mark Shriver, Corbin Capital Partners CEO and Gala Co-Chair Tracy Stuart, actress and Save the Children Ambassador Olivia Wilde, Save the Children Bolivia beneficiary, Nicole Valdez Mita, among others.