Paul McCartney, musician, activist and global icon, has joined National Geographic Editor in Chief Susan Goldberg, for an exclusive conversation, ahead of releasing a new documentary short in support of his campaign "Meat Free Monday," which can be viewed at nationalgeographic.com.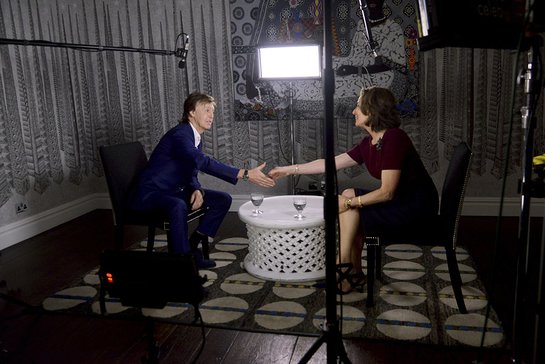 Along with daughters and campaign co-founders Mary and Stella McCartney, the new documentary film, One Day a Week, also features Academy Award-winner Emma Stone and Academy Award nominee and EMMY-winner Woody Harrelson, as they narrate and share facts about the impact of livestock agriculture on climate change.
"Meat Free Monday encourages people to not eat meat at least one day a week with the hope that if enough people do it and the idea spreads, it will make a difference," said McCartney. "My film, One Day a Week, aims to raise awareness of this important issue and show people that if we all join together in this effort, we can help improve the environment, reduce the negative impacts of climate change, and even improve people's health. "
Launched by Paul, Mary and Stella in 2009, 'Meat Free Monday' is a not-for-profit campaign that aims to raise awareness of the detrimental environmental impact of eating meat, and to encourage people to help slow climate change, preserve precious natural resources and improve their health by having at least one meat-free day each week.
Through the interview, McCartney discusses his personal choices in becoming a vegetarian and why he's now advocating for "meat moderators": people who reduce their consumption of meat intake as part of their weekly food routine.
"I support a lot of causes, but this particular one is personal for me because it is how I live," said McCartney. "Through this campaign, I can say to people, 'Just try it,' and show people that it can actually be quite fun when you look at what you do, what you eat, how you live and think, 'Is this what I'm gonna do for the rest of my life or would it be kind of interesting to try making a change?'"
Goldberg said, "At National Geographic, we've been illuminating the world for the last 129 years — first in words and pictures, and now across our digital platforms, with information that's on the side of science, on the side of facts and on the side of the planet. Within our yellow border, we're creating a portal for the planet's curious people, giving those with an insatiable quest for knowledge the information that allows them to make informed decisions and affect positive change. We are thrilled that Paul chose National Geographic to bring his message about environmental sustainability to a global audience."
During the conversation, available for viewing now at nationalgeographic.com, Paul also discussed the inspiration behind the 1968 Beatles hit, "Lady Madonna." An article titled "American Special Forces in Action in Viet Nam," from a 1965 issue of National Geographic magazine, featured a photo by Howard Sochurek of a woman surrounded by three small children, one of them nursing. The photo ultimately served as the inspiration for the song.
"I love National Geographic and I've loved it since I was a kid. It's sort of always there, that yellow frame and you know exactly what it is and you know you're gonna get great photos and great stories about the world," said McCartney. "One particular issue, I saw in the '60s, had a woman…and she looked very proud and she had a baby … I saw that as a kind of Madonna thing, mother and child…… You know, sometimes you see pictures of mothers and you go, 'She's a good mother.' You could just tell there's a bond and it just affected me, that photo. So I was inspired to write 'Lady Madonna,' my song, from that photo."
Goldberg's interview with McCartney will be released to the 396 million followers across all digital and social platforms, including Facebook, Instagram, Twitter, Snapchat and online, with a print interview to follow in the new year. National Geographic magazine has 55 million readers, in 30 languages, with the full National Geographic media portfolio reaching over 760 million consumers every month.