Celebrity activist couple, Ian Somerhalder and Nikki Reed, were presented with the Jameson Animal Rescue Ranch Humanitarian Award on Thursday, November 9, at the Lincoln Theater in Yountville as part of the 7th Annual Napa Valley Film Festival.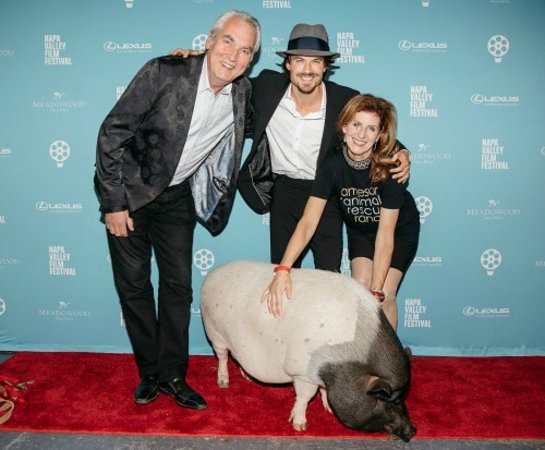 JARR Co-founders, Monica and David Stevens presented an etched Robert Foley Vineyards, Howell Mountain Cabernet 3Liter, 2013 on stage with a special guest, a pig called Mr Moo who clearly stole the show.
The Jameson Animal Rescue Ranch Humanitarian Award celebrates those individuals who have shown outstanding compassion, advocacy and dedication to animal protection issues. The recipients, actors Ian Somerhalder (Vampire Diaries, Lost) and Nikki Reed (The Twilight Saga, Twilight, Thirteen), exemplify JARR's mission to show compassion to all animals in need and by using their unique platform to bring a spotlight to animal welfare issues help further the work to end animal cruelty in all it's forms.
"Ian and Nikki are changing lives with their outstanding humanitarian and environmental work and we are honored to present them with the award for their incredible work through the Ian Somerhalder Foundation," said Monica Stevens, Co-founder Jameson Animal Rescue Ranch, "They are a beacon of light in a challenging world and we look forward to collaborating with them more in the future. It is the hope of JARR and ISF that we inspire humans to show compassion, reverence and gratitude toward all living creatures."
Visit the JARR website here for more info on their work with companion and farmed animals in need.