Today, UNICEF Goodwill Ambassador David Beckham made a surprise visit to Kentish Town C of E Primary School in London to celebrate World Children's Day.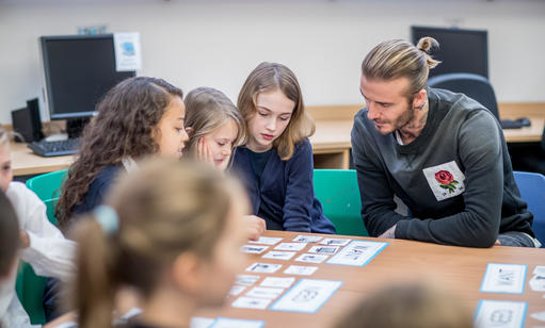 During the visit, David met pupils aged between five and 11 from the student council to discuss the issues that affect them most such as their right to feel valued, listened to and respected. David then treated the children to an impromptu game of football in the playground of the North London school.
Kentish Town Primary School is a Level Two Rights Respecting School, an initiative run by Unicef UK which supports schools to place the UN Convention on the Rights of the Child at the heart of their ethos. It empowers pupils to realise their own rights and develop every child's talents and abilities to their full potential.
David chose to visit Kentish Town Primary School as today marks the anniversary of the adoption of the Convention on the Rights of the Child and the mobilisation of the first World Children's Day.
UNICEF Goodwill Ambassador David Beckham said:
"This World Children's Day we are handing over the reins to children, encouraging them to speak out for each other. One important lesson from my travels with UNICEF is that we need to listen to children about the world they want to live in. Today it's been really inspiring visiting the school. It's amazing to see how happy and confident the kids are and listening to them talk so passionately about learning and respecting the rights of children."
Jude, aged 11, a pupil at Kentish Town Primary School said:
"It was really fun meeting David today hear him talk about how important it is to help UNICEF. He gave really good answers to all the questions we asked him. It was even more exciting because today is World Children's Day!"
In addition to today's school visit, David has released a short film in collaboration with UNICEF, in which he quizzes children about their views of the world. During the heart-warming film, Beckham is seen in conversation with five children asking a series of questions such as what changes they would like to see for children in the future and what rules they would give grown-ups. The film was recorded in New York with children aged 6-10 years-old: Smith (6), Jenna (7), Fiona (7), Jayla (8) and Royce (10).
Children all around the world have been celebrating World Children's Day today by 'taking over' key roles in media, politics, business, sport and entertainment to help save children's lives, fight for their rights and fulfil their potential. In the UK, hundreds of schools have taken part in the OutRight campaign – Unicef UK's annual schools campaign that enables and empowers children and young people to speak out in support of children's rights and celebrate World Children's Day.
David Beckham has been a long standing supporter of UNICEF since playing with Manchester United and became a UNICEF Goodwill Ambassador in 2005. In 2015, his tenth year with Unicef, he launched 7: The David Beckham UNICEF Fund to help protect children in danger. David is working with Unicef to ensure that world leaders put children first and agree new development goals that will help end violence, preventable death and poverty for every child.