Marking the United Nations Universal Children's Day yesterday, 20th November 2017, the internationally acclaimed actress and Goodwill Ambassador for UNHCR, Kristin Davis, is calling for global attention and funding to provide more life-saving aid for Rohingya refugee children in Bangladesh.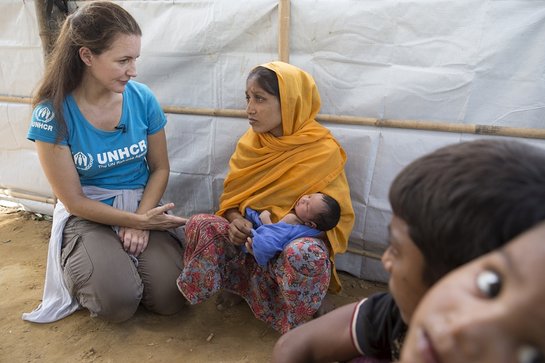 Davis, speaking with UNHCR, the UN Refugee Agency, at the end of a visit to Kutupalong Refugee camp in Bangladesh, said: "For me, the most shocking part of the Rohingya refugee crisis is the number of children who have had to flee their homes. Over half of the refugees in the camp are children. Some of them have lost one or both parents and they are on their own. These children have faced unimaginable horrors and chaotic violence and then a harrowing journey to safety. They are in need of everything including the very basics of shelter, water and food. I can't imagine going through what these children and their families have gone through, much less having the strength, resilience and extraordinary bravery these children possess."
"This is currently the fastest growing refugee crisis in the world and seeing the impact of this emergency on children is devastating," Davis continued. "But there is hope. I have been witness to the fact the UNHCR, UN Refugee Agency, along with the Bangladeshi Government and its partners, are working around the clock to ensure refugees are safe, sheltered, and protected. UNHCR is also delivering life-saving services and assistance including clean water, shelter, blankets, cooking sets, tarpaulins, to the remotest of locations. But there is so much more to do and more international support is desperately needed."
"The fact is that more funding, more donations, will save lives. Governments, the public, private sector, businesses, we all need to do what we can to help and donate now to support the Rohingya refugees," Davis added.
The Rohingya are a stateless minority in Myanmar. Since violence erupted on 25th August 2017 in Myanmar's northern Rakhine State, over 600,000 people have fled to Bangladesh. Children make up 54 percent of the total population; women 52 percent. Many others are elderly refugees requiring specific protection.
In a recent family counting survey of over 170,000 families, (over 740,000 individuals) the UNHCR teams found that so far:
• 5,677 (3.3%) of the households were headed by children
• More than 4,800 households (2.8%) include separated and unaccompanied children
• One-third of the refugee families are highly vulnerable.
• As many as 14 per cent of families are composed of single mothers holding their families together with little support in harsh camp conditions.
UNHCR, the UN Refugee Agency, has additionally deployed more than 100 specialized staff to this crisis and has airlifted some 1,500 metric tons of aid to Bangladesh since 25th August, including tents, plastic sheets, blankets, kitchen sets and jerry cans. More aid is being moved by sea.
Louise Aubin, UNHCR's Senior Emergency Co-ordinator based in Cox's Bazaar, Bangladesh, said, "UNHCR's first aim is to support the Government of Bangladesh in receiving, protecting and providing lifesaving assistance to the hundreds of thousands of Rohingya refugees. Their families and communities have been torn apart and they are in desperate need of the most basic services – like medical assistance, food and shelter. We are here to help the refugees rebuild their lives and for this we need international support and funds to respond to the massive humanitarian needs here."
UNHCR requires $83.7 million to respond to humanitarian needs in Bangladesh until the end of February 2018 in order to meet the acute needs of children, women and men fleeing conflict. UNHCR's response is currently less than half funded.