Petra Nemcova was honoured by BOVET and Artists for Peace and Justice at the Brilliant is Beautiful Gala in London on Friday, December 1st 2017.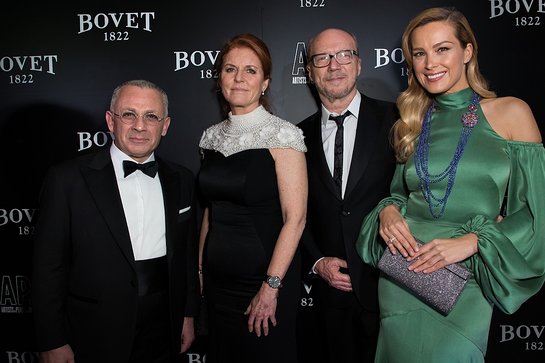 Pascal Raffy, Paul Haggis, Kim Cattrall, Elizabeth Hurley, Arizona Muse, Nicole Scherzinger, and esteemed friends came together at Claridge's for an intimate benefit dinner in support of women's education.
The auspicious evening of fundraising by Artists for Peace and Justice (APJ) was supported by London's leading cultural icons to benefit Brilliant is Beautiful, which is a global fund that provides underprivileged women and girls with secondary education.
The hotly anticipated event was co-hosted by an illustrious team, including owner of BOVET Pascal Raffy, alongside APJ founder and multi Academy Award winning filmmaker Paul Haggis, actresses and activists Kim Cattrall and Elizabeth Hurley, event co-chairs Caroline Stanbury, and Mike and Sukey Novogratz, and explorer Johan Ernst Nilson. International supermodel Arizona Muse, singer Nicole Scherzinger and The Duchess of York, who is a long-time advocate for children and education, also attended. The Gala united leading global talent around specific issues to not only raise awareness but to empower women through education and honour women for their achievements.
A sum of over half a million pounds was raised at this year's Brilliant is Beautiful event which honored inspirational activist Petra Nemcova, who founded the Happy Hearts Fund, in recognition of her extraordinary commitment towards activism on behalf of the poorest communities on the planet, with particular focus on promoting women's education and human rights.
"We are proud that coming together in London was again a success and that we can help guarantee 100% of every pound raised directly to supporting Brilliant is Beautiful initiatives." says Pascal Raffy. "BOVET has been an indefatigable supporter of APJ since 2013 based on a dedication to upholding the same valued and respected qualities– a commitment to excellence through education, integrity and transparency."
Artists for Peace and Justice founder Paul Haggis comments, "We were thrilled to return to Claridge's for our second APJ Gala. This is the hallmark event of our Brilliant is Beautiful campaign and I cannot begin to express my gratitude to the great people of London whose passion and generosity is helping so many young women in some of the poorest communities get the education and opportunities they deserve."
The Gala helps raise vital funding for worldwide educational programs serving some of the neediest young girls in Haiti, Kenya, Pakistan, Peru and Uganda. In Haiti, APJ's own programs provide scholarships to over 1,500 young girls via their Academy for Peace and Justice high school and Artists Institute College. In Kenya, through Many Hopes, young girls are rescued off the streets from the worst of poverty, given dignified education, and are poised to become local professionals and leaders. In Pakistan, Iqra Fund transforms the lives of remote rural girls previously destined to teenage marriage into the power behind their community's new future. In Peru, Happy Hearts Fund bridges the gap from disaster to opportunity, rebuilding after their earthquake to provide a new high school, helping hundreds of young girls gain diplomas and autonomous stewardship over their future. And in Uganda, Hope North's home and secondary school provides an extraordinarily supportive safe space for young women to learn and thrive.