For 15 years running, Davler Media Group's Metrosource, the largest circulation LGBTQ publication serving New York City and Los Angeles, and second largest nationally, has ended the year with "People We Love," an expansive editorial salute to the people whose efforts and example have helped further the image and acceptance of the LGBTQ community.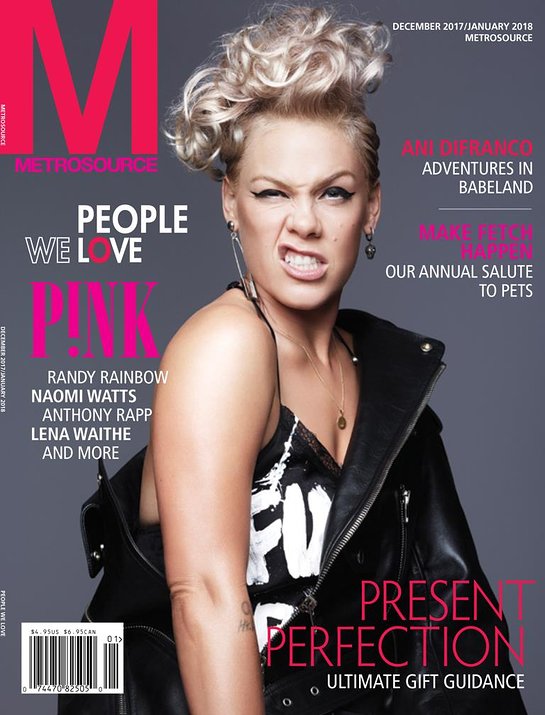 This year's "People We Love" spotlights 21 notables, from star producers, actors and musicians like Pink, Jill Soloway, Ryan Murphy, Naomi Watts and Sam Smith to new media figures like YouTube sensation Randy Rainbow to lesser known but mightily impactful community leaders like transgender politico Danica Roem and nightlife impresario Brian Rafferty.
"Creating our annual 'People We Love' is a true pleasure, privilege and responsibility," says Paul Hagen, Editor-In-Chief of Metrosource. "It's the time we look back on achievements, update past stories and look ahead, where we recognize the people who are going to exceptional ends to do great things for the LGBTQ community."
In a proud shout-out, Metrosource's December/January issue features one of the 21 honorees on its cover, the relentlessly independent songstress and outspoken LGBTQ advocate, Pink.
In its salute to the artist, Metrosource notes her song "Dear Mr. President," where she asks former President George W. Bush what his attitude on marriage equality would be if one of his daughters had happened to be gay, as well as her acceptance speech for the Video Vanguard honor at 2017's MTV Video Music Awards, which she attended with her daughter, dressed in matching menswear.
"Pink has shown refreshingly straightforward and unflagging support for those who have faced discrimination because of sexual orientation and gender expression," adds Hagen. "Her MTV speech was awe inspiring and is presented nearly in its entirely is our editorial salute to her on our website."
With their power to create and transmit images that help reshape public opinion, a host of film and television personalities are among the honorees. These include: Transparent and I Love Dick creator Jill Soloway; Billy Eichner and Julie Klausner , the co-stars and creator of the Hulu hit, Difficult People,; Naomi Watts, for her role as the sex curious therapist in the Netflix series Gypsy, American Horror Story star Cheyenne Jackson; actors Anthony Rapp and Wilson Cruz, who break ground as an out, proud couple in the CBS series, Star Trek: Discovery and actress Lena Waithe, the beloved, butch best friend in Aziz Ansari's Netflix hit Master of None.
Metrosource's "People We Love" also salutes the long career of Ryan Murphy, a creator/producer who has put the LGBTQ world at the center of his many hit shows, from Glee to American Horror Story to his latest, The Assassination of Gianni Versace. Metrosource gives a special all-hands shout-out to the cast and creators of the revamped series, One Day at a Time, from Gloria Estefan's theme song remake to Rita Moreno's portrayal of the grandma/patriarch to actress Isabella Gomez, for her role as a teen coming to terms with her fluid sexuality.
Personalities from the fast-expanding world of new media also share in Metrosource's love. Kathy Lu and Tobin Low, the hosts of WNYC Studios' much-loved podcast, All Thing LGBTQ, are honored along with Randy Rainbow. Rainbow is the irrepressible YouTube star whose hilariously re-edited interviews with politicos and extravagant music videos have helped us all deal with everything from the threat of a nuclear showdown with Korea to President Trump's oft-disorienting midnight tweets. British hit maker Sam Smith is given kudos along with Nick Jonas, both for his sensuous R&B music and his acting, most notably, as a macho Mixed Martial Arts champ, Nate Kulina, who dramatically comes out in the series, Kingdom.
Metrosource's annual "People We Love" reserves some of the spotlight for lesser known names who are making a difference on the ground in the LGBTQ. This list is led by Danica Roem, the Virginia journalist and mom who has become the first transgender person in her state's legislature. Also honored are: Sean Coleman, Peer Educator for the Minority Task Force on AIDS; Matt Tummeinello, founder of Target 10, a firm that helps top companies like HBO and Johnson & Johnson reach the LGBTQ audience; Valerie Weisler, who founded a worldwide organization to spread kindness among teens called the Validation Project and Brian Rafferty, one of NYC's premier party impresarios and social connectors.
Metrosource's "People We Love" also features a posthumous salute to the late Edith Windsor, the woman who struck the first legal blow in the long battle that struck down the Defense of Marriage Act (DOMA) leading to marriage equality.
The 10-page special editorial section is complemented with more in-depth profiles that begin rolling out daily on December 13 at the magazine's recently revamped website, www.metrosource.com. A special video saluting Metrosource's "People We Love" can be found here.