By Scott Cable on
The Children's Defense Fund – New York's annual Beat the Odds Gala was held Tuesday, February 27, 2018 uptown at The Pierre Hotel.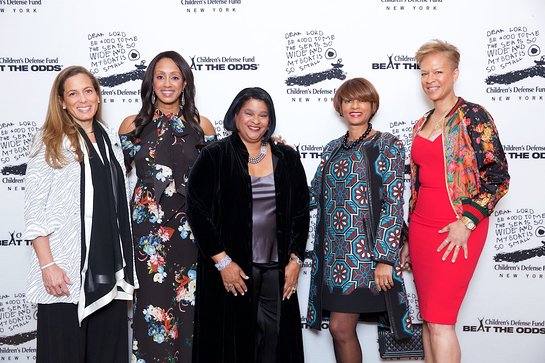 Famous faces that came out in support of this outstanding foundation were journalists Al Roker and Deborah Roberts, film director and actress Spike Lee and Tonya Lewis Lee, tennis star Stan Smith just to name a few.
The annual event honored five extraordinary high school seniors from across New York City that have overcome tremendous adversity to excel academically and achieve their personal goals. These five students are part of the CDF-NY's Beat the Odds scholarship program. This program provides scholarship opportunities and support services to aid scholars throughout their college career – including ongoing mentoring, internship placements and career guidance.
Zyiel Baughan, 18
The Young Women's Leadership School – East Harlem, New York
For Zyiel, growing up in the Lower East Side of Manhattan was no fairytale. Abandoned by her parents, Zyiel spent her formative years in a home occupied by several other relatives. It was there that she was exposed to adults with serious addiction problems, with needles strewn about the house and the smell of crack-cocaine permeating her clothes. When the one aunt who offered her affection died from a drug overdose, and her best friend was murdered as a result of gang violence, Zyiel was alone and bereft. Fortunately, she found solace and direction at school, where she felt welcomed and useful. An avid reader, she would lose herself in books, and in subjects like math and science. Understanding that education would be her ticket out of her circumstances, she made her studies, and holding down a job to support herself, her highest priorities. She now excels academically, maintaining a 4.0 GPA, and she has been selected as the Valedictorian of her senior class at the Young Women's Leadership School in East Harlem. Seeing the lives of family members and close friends destroyed by drugs motivated her to become an activist, and to study to eventually become a social worker. Zyiel is committed to helping others beat the odds in their lives as she has done and looks forward to attending college to realize her goals.
Ashlyn Cruz, 17
Mesa Charter High School – Brooklyn, New York
When Ashlyn was only two, her father died, leaving her mom a financially challenged single parent. Ashlyn was six and her brother Freddy was one, when her mother left them with their grandparents to come to the U.S. to provide a better future for them. While with her grandparents in Honduras, Ashlyn assumed responsibility for her brother, but her longing for her mother led to deep depression. Ashlyn struggled to hang on, primarily because of her obligation to care for Fredy, and after seven long years, the children were reunited with their mother. Ashlyn has come to respect and be inspired by her mother's courage and determination, and she is motivated to excel in school as a way to demonstrate her appreciation. She has maintained a 3.5 GPA while enrolled in Honors and AP courses, and she is President of her school's National Honors Society and a member of Student Government. Ashlyn strives to continue a family legacy of perseverance. She plans to attend medical school to prepare herself to help others throughout her career.
Omar Newman, 17
Academy Of Hospitality and Tourism – Brooklyn, New York
At the age of ten, Omar moved to New York from California to join his mother, and what was supposed to be a short stay in a homeless shelter dragged on for four years. Initially, the dramatic change of circumstances left Omar unmotivated, underperforming, and in danger of succumbing to the allure of the streets. However, Omar's desire to be a role model for his younger brother motivated him to document his story to inspire his brother, and to find support in a mentoring program at school, which gave him renewed confidence and better ways to deal with his academic and personal challenges. Omar has not only improved his grades, but has completed college credit courses on Saturdays. He takes advantage of every opportunity that comes his way, whether it is tutoring and extra credit work or mastering fencing and competing citywide. Omar is excelling not only academically, but in football as well, which he hopes to play in college, while majoring in Sports Management and Software Engineering.
Chinomso Keslyn Ononiwu, 17
Mesa Charter High School – Brooklyn, New York
As albino Nigerian twins born in Italy, Keslyn and her sister have been forced to deal with strangers judging their appearances and challenging their intellect. But that issue pales in comparison to having endured placement in foster care, when their mother was forced to leave them to pursue employment to support them. The elation experienced when their mother returned was too brief. Tragically, in the middle of the night their home, heated only by burning coals, filled with carbon monoxide. Keslyn, a mere ten years old, could not find her mother, but was able to use her full strength to rescue her sister from the house. Later, while at the hospital the girls learned their mother had died, leaving them emotionally devastated and in limbo for three years, until relatives were able to bring them to the New York. Keslyn, who had neglected her studies and talents, eventually returned to being studious with a renewed conviction, to honor and celebrate her mother's legacy. Focusing not on what is lost but on who and what you have in your life today, Keslyn maintains a 3.5 GPA while also paying volleyball, volunteering at her church and remaining active in the performing arts. On the pre-med track, Keslyn plans to major in Biology and eventually become a Dermatologist.
Amy Pantoja, 17
Fort Hamilton High School – Brooklyn, New York
A series of events landed Amy and her family in a Bronx homeless shelter, where they have lived for several years. Amy values her education and hasn't allowed her circumstances to prevent her from reaching her full potential. During her first few weeks at the shelter, when she was unable to attend school, she created a plan to ensure that she maximized her four-hour round trip commute to focus on her studies. When she returned to school, she met with each teacher to explain her circumstances and to obtain missed assignments which she diligently completed. Amy doesn't allow inconveniences like the lack of a computer impede her ability to study or complete her homework. Instead, she often spends her limited free time in the library at school or near the shelter, with her determination paying off as evidenced by her 4.0 GPA. She is extremely grateful for every kind act and helping hand she has received. To "pay it forward," Amy, who aspires to become a veterinarian, continuously helps her peers and community members in need because she appreciates the support and encouragement needed to overcome seemingly impossible odds.