Here's your chance to meet David Lynch and Kyle Maclachlan for a damn good cup of coffee, quality conversation… and probably some more coffee.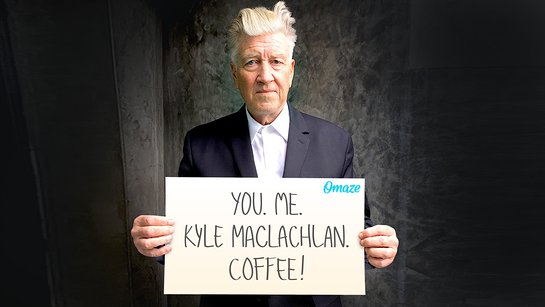 Prepare for the wonderful and strange because omaze.com is giving you and a friend the chance to go to NYC to live out every Twin Peaks fan's dream… and all you have to do is donate to charity.
omaze.com is giving you the chance to win the opportunity to attend David Lynch's Festival of Disruption as David's VIP guests to experience all the music, art, film and creativity the fest has to offer. You'll also attend a super secret event David's hosting the night before and — in true Twin Peaks fashion — you'll meet up with David and Kyle MacLachlan for their favorite hot beverage… coffee. That's right, coffee with Special Agent Dale Cooper! It's going to be a damn good time. Flights and hotel included.
The David Lynch Foundation (DLF) targets the epidemic of trauma and toxic stress among under-resourced populations through the implementation of the evidence-based Transcendental Meditation technique. DLF has served more than 500,000 children and adults worldwide, with a focus on urban youth in underserved schools, veterans suffering from post-traumatic stress and their families, and women and children who are survivors of domestic violence and sexual assault. DLF also works with the homeless, prison populations, people living with HIV/AIDS and others.
To find out more, click here.