The Alliance for Women in Media Foundation (AWMF) handed out the 43rd Annual Gracie Awards at the Four Seasons Beverly Wilshire Hotel in Los Angeles this week.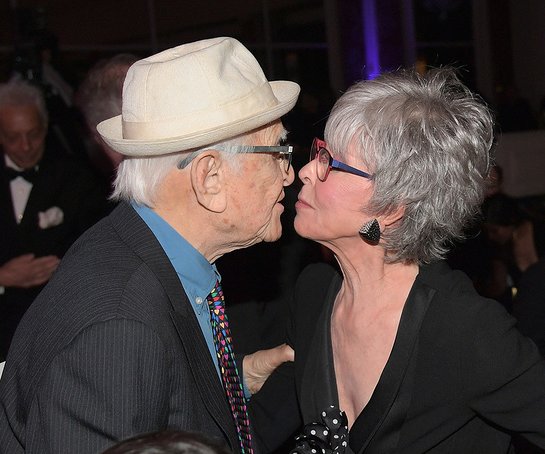 Host Lisa Joyner led the evening which included the presentation of the Lifetime Achievement Award to Rita Moreno by Norman Lear and a special performance by Grammy-nominated country music singer Kelsea Ballerini.
The Gracie Awards, which each year celebrate programming created by, for and about women across radio, television, cable and interactive media, hosted attendees including Megan Mullally, Nick Offerman, Jon Cryer, Pam Oliver, Elizabeth Smart, Loni Love, Shaun Robinson, Jeannie Mai, Gabrielle Dennis, Kevin Burkhardt, Erica Hill, Toni Trucks, Mary Louise Kelly, Robin Thede, Zerlina Maxwell, Jessica McIntosh, Tracey Wigfield, Shirley Strawberry, Rachel Nelson, Salma Abdelaziz, Paula Malcomson and more. This year's social media ambassador was Sweety High host Cassie DiLaura and the ceremony was executive produced by Vicangelo Bulluck. To view complete list of award recipients and honorable mentions, visit allwomeninmedia.org.
Highlights from the evening include:
Host Lisa Joyner kicked off the evening celebrating the strides women have made in the past year. "From the record setting attendance at the Women's March, to the wave of sexual misconduct allegations that empowered women to speak their truth, to gender inequality and the wage gap being thrust into the spotlight. And from there, we're about to make history this year for the record number of women running for public office."
Norman Lear presented the Gracies Lifetime Achievement Award to Rita Moreno saying, "Rita Moreno and her magic has made it look easy. I'm grateful to know and work with her, and be able to tell her that I love her in front of a crowd."
Moreno accepted the award with a moving speech: "What makes this recognition so special to me is the acknowledgement of a lifetime's work which at 86, is a lot of life and a lot of work. This line of work demands profound endurance and the ability to control and avoid beating up Meryl Streep for getting all the stuff that you could've done better," Moreno joked as the audience laughed. Reminiscing on a moment when she was ten years old dreaming of making it in the industry, Moreno said, "seventy years later, who would've thunk I'd be in the company of other wonderful stars? I really feel blessed."
Country music star Kelsea Ballerini took to the stage and brought the house down as she performed "I Hate Love Songs" and "In Between" off her new sophomore album "Unapologetically."
Nick Offerman took a knee on stage as he held up and presented the statuette for Best Supporting Actress in a Comedy or Musical to "Will & Grace" star and wife Megan Mullally. She accepted the honor as she offered advice. "I want to say to women and girls, you have no limitations. You can do whatever the hell you want to do," said Mullally. "Be collaborative but do it your way, just the way you like it. Learn how to say no, but most importantly, learn how to say yes."
Sportscaster Kevin Burkhardt presented the award for Best On-Air Talent, Entertainment/Sports to Pam Oliver. She shared with the audience that sports and journalism were always key for success and the challenges she's had to endure in a male-dominated industry. "You have to protect your dream," said Oliver. "I've been called a bitch at least three times by head coaches but never to my face. If they ever said it to my face, it would be on!"
Elizabeth Smart, who bravely told her abduction story through the intimate two-part biography special "Elizabeth Smart: Autobiography," received a standing ovation from the entire room as she accepted the Gracie for Best Producer, Non-Fiction. "When I ultimately decided to tell my story, it wasn't to put my nightmare on air. It's because I had met other survivors," said Smart. Though not all the victims she met had gone through kidnapping and rape, Smart said, "pain is pain, and there is always hope and you can always move forward."
Host of "The Real" and comedian Loni Love presented the award for Best Drama to NBC's hit show "This Is Us." Executive producer Elizabeth Berger, along with seven of the show's female writers, accepted the award sharing that they "created the show about women that remind us of us" and about "moving through life with grace and dignity."