UNICEF Goodwill Ambassador Priyanka Chopra has called for more support for vulnerable Rohingya refugee children and women following a four-day trip to refugee camps and informal settlements in Cox's Bazar, Bangladesh.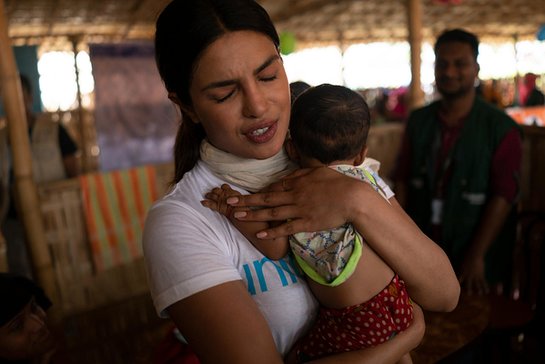 "After seeing the distressing images of the Rohingya crisis unfolding last year, being here and meeting the children and families affected has helped me better understand the enormity of this crisis," said Chopra. "Nearly 60 percent of the more than 700,000 refugees are children, living in desperately difficult conditions – with limited access to permanent shelter, clean and safe water, food and education."
"In the past four days, I've seen the incredible work that UNICEF and partners are undertaking, and the progress made in these makeshift camps in the last 9 months, but there is still so much more support needed. The kids I met were smiling but I could still see a sadness in their eyes that reflected the carnage and horror they witnessed. Yet at the same time, meeting children at a learning center, I saw real hope. I saw children happy, learning and playing. I saw enthusiasm and children living their childhood the way it's meant to be. There are so many more children eager to go to school. Because of lack of space, only a fraction of these children has access to the basic education provided by UNICEF."
Chopra also journeyed to the border area near Myanmar where hundreds of thousands of Rohingya women, children and men crossed following the escalation of violence in August 2017.
In a nutrition center in Jamtoli makeshift settlement, Chopra saw children being screened for malnutrition. With 163,295 children under the age of five living in the camps, and an average of 60 babies being born every day, nutrition centers offer a vital lifeline by screening and treating children for malnourishment and teaching new mothers breastfeeding practices to help make sure their babies have the best possible start in life during the critical first 1000-day period.
Chopra then visited a UNICEF-supported learning center at Balukhali where she actively participated in lessons, games and songs and learned about the challenges in providing Rohingya children with education.
"No matter where a child is from or what his or her circumstances are, every child is the future of this world, and it is up to us, as global citizens, to make sure they have a future. Please support the aid organizations that are on the ground like UNICEF, that help in providing sufficient schools and teachers in these camps and settlements as well as appropriate materials and curricula."
"Without education and learning opportunities, Rohingya children will quickly become a lost generation. Education cannot wait," she said.
UNICEF Representative in Bangladesh Edouard Beigbeder said that as the crisis continues to unfold, the international community must not ignore the huge needs of Rohingya children and the new risks they face.
"The international community must redouble its efforts to support the Government of Bangladesh to protect and invest in the future of Rohingya children, particularly in their education," Beigbeder said.
The Government of Bangladesh has generously taken in more than 700,000 Rohingya refugees since August 25th, 2017 and has been working with UNICEF to deliver life-saving support to the most recent and previous influxes of Rohingya refugees. Aid is also being provided to local Bangladeshis in host communities in Cox's Bazar.
"It's heartening to see the immense support that has been provided by the Government of Bangladesh. They have not just opened their hearts but have made every effort to accommodate as many refugees as they can. We have to care. The whole world has to care and take action," Chopra said.