GOOD+ Foundation, a national nonprofit founded by Jessica Seinfeld to provide essential goods and transformative services to families living in poverty, hosted its 12th Annual Bash in Victorian Gardens at Central Park on Thursday, May 31, 2018.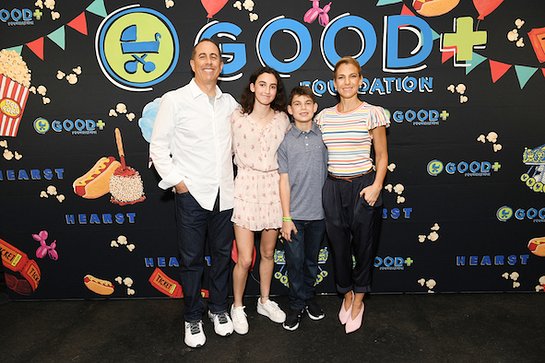 Hosted by Jessica and Jerry Seinfeld, the carnival-themed event raised more than $550,000 and brought together more than 1,000 attendees including: Jemima Kirke, Ali Wentworth, Ginger Zee, Jenny Mollen, Jeff Gordon, Francesca Reale, Neil Blumenthal, Delfina Blaquier, Cameron Seely, Austyn Johnson, Ethan Hutchison, NY Knicks Alumni John Starks, Sylvana Ward Durrett, Huma Abedin, Gillian Hearst, Brett Heyman, David Neville, Charlotte Groeneveld, and Stacey Bendet Eisner for an event-filled evening of rides, pop-up activations, sampling stations, costumed characters and more.
In addition to carnival rides and games, this year's Bash featured a Levi's Kids denim patch-it-up station; pop-a-shot games by the NY Knicks ; a Smile, Snap & Share Skip Hop photo booth by mirmir; a donut printing station by Dunkin' Donuts for National Donut Day; carnival game prizes provided by Kenneth Cole ; Beautycounter SPF station; stroller valet from Chicco ; and refreshing beverages from Bai , among more. The event is presented by Hearst , with other event sponsors including Hu Kitchen , Monica + Andy , Little Spoon, Plum Organics and Tosi Health . Gift bag sponsors include: Entertainment One , everafter , Fairy Tales Hair Care , Good Day Chocolate , Maisonette , Peeled Snacks , Supergoop! and This Bar Saves Lives .
Thanks to the support of 2018 NY Bash sponsors and ticket package buyers, more than 100 families enrolled in GOOD+ programs also enjoyed the evening at the carnival.
"Our family and friends count down to The Bash every year," says Jessica Seinfeld, founder and president of GOOD+ Foundation. "There is something magical about being at a carnival in the heart of New York City, having fun with the families we work with and the families who show us so much support."
Since 2001, GOOD+ Foundation has provided a safety net of social services, education, goods, and support for families working toward financial stability. The organization partners with a network of the top anti-poverty programs across the country to help incentivize parents to reach their goals — like getting their GED or enrolling into community college, participating in job training, or taking parenting classes. Through the goods plus the services, GOOD+ helps to meet the immediate health and safety needs of children, while giving parents the dignity and skills they need to rise out of poverty.
For more information, visit GoodPlusFoundation.org.