Fire up your engine, because you're in for the ride of a lifetime – omaze.com is giving you and a friend the chance to head to Las Vegas to hang with badass Michelle Rodriguez.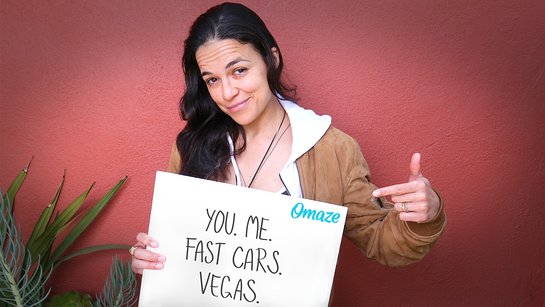 All you have to do to win is donate to Taino Warriors through omaze.com. The prize includes the chance to meet Michelle at Exotics Racing and spend the day driving around in the world's fastest supercars. We're talking everything: Ferraris, Lamborghinis and even Aston Martins — take your pick. And make sure to buckle up, because on these tracks speed limits don't exist. After your day of racing, you'll switch gears and go to Michelle's favorite club on the Strip where she'll hook you up with bottle service for the night. Flights and hotel are included.
Taino Warriors supports local Puerto Ricans who have taken matters into their own hands by empowering communities still devastated by Hurricane Maria 10 months later. Your donations will support these grassroots warriors committed to sustainable solutions focusing on children's education and mental health, the environment, and eco-agriculture. These local groups go door-to-door to determine each community's needs, ensuring their individual needs are met.
The more you donate, the more chances you have to win.
For more info and to enter, click here.