Here's your chance to celebrate Halloween early with the legend that is Alice Cooper, and join him on stage – and all you need to do is donate to charity.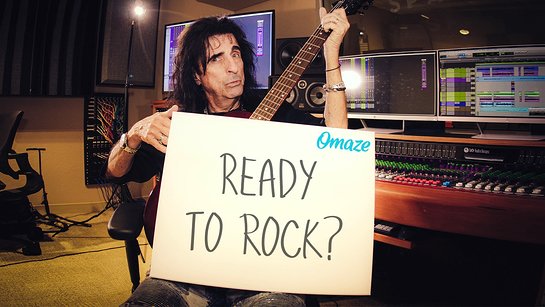 omaze.com is giving you and a friend the chance to head to Michigan to take in the final stop of the rockstar's Paranormal Evening tour as his VIP guests. You'll hang with Alice, grab a photo together and rock out from killer, VIP seats. Plus, enjoy a behind-the-scenes stage tour, where you'll check out Alice's infamous guillotine and FrankenAlice monster. And since this is Alice Cooper we're talking about, you'll end the night in the craziest, most unexpected way possible: on stage hurling giant balloons loaded with confetti into the crowd. Flights and hotel included.
To enter the draw to win this once-in-a-lifetime opportunity, just head over to omaze.com and donate to Solid Rock. Founded by Alice and Sheryl Cooper, Solid Rock's primary mission is to make an everlasting difference in the lives of teens by offering a safe and engaging environment for them during non-school hours. Your generous donation will support Alice Cooper's The Rock Teen Center in Phoenix, Arizona which provides a cool, supervised facility for the teens to engage with their peers, as well as vocational training in sound and recording, lighting and staging, and video production. In a time where public schools are cutting funding for empowering programs like music, dance and art, Alice Cooper's The Rock Teen Center cultivates a love of the arts to inspire and challenge teens to embrace artistic excellence and reach their full potential.
Enter the competition here.