The Duchess of Sussex is supporting a new charity cookbook, 'Together', celebrating the power of cooking to bring communities together.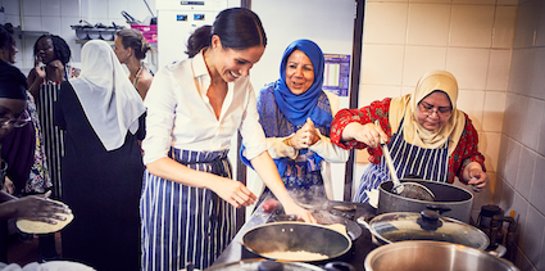 Supported by The Royal Foundation and published by Penguin Random House companies, 'Together: Our Community Cookbook' showcases over 50 recipes from women whose community was affected by the Grenfell Tower fire.
In summer 2017, a group of women gathered in a communal kitchen at the Al Manaar Muslim Cultural Heritage Centre in West London, where they could prepare fresh food for their families, friends and neighbours.
As they cooked together and shared recipes, as a community they began to connect, heal and look forward. Word spread and more women joined in – this was the start of the Hubb Community Kitchen.
"I immediately felt connected to this community kitchen; it is a place for women to laugh, grieve, cry and cook together," said the Duchess of Sussex.
The Duchess of Sussex first visited the kitchen in January 2018 and has continued to make regular private visits. United by their passion for cooking as a way of strengthening communities, The Duchess was inspired by how the project empowers women at a grassroots level, and championed the cookbook project as a way of ensuring the kitchen can continue transforming lives and communities through cooking.
Source: Royal.uk