PORTER Editor-in-Chief, Lucy Yeomans, this week co-hosted the third annual Incredible Women Gala with Universal Pictures Chairman, Donna Langley, in association with Estée Lauder at The Ebell of Los Angeles.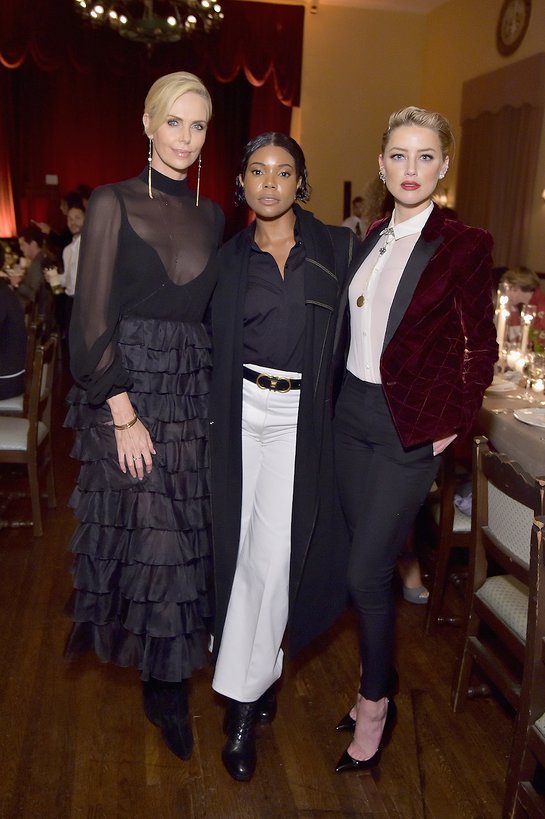 The Gala is a celebration of women who have changed the course of the global conversation over the past year. PORTER's annual Incredible Women list highlights female leaders, celebrities, CEOs, writers, scientists, actresses, musicians, activists and designers – marking the Incredible Moments when their actions, achievements or innovations have inspired other women, and created a positive impact. The theme of this year's list is One Year Stronger and published in the Winter issue (on sale now).
The evening – in support of Vital Voices, a non-profit, bipartisan organization – included a special performance by noteworthy talents, paying tribute to heroines around the world. Charlize Theron, Amber Heard, Anna Kendrick, Busy Philipps and Mahershala Ali performed a series of readings penned by the likes of Nora Ephron, Chimamanda Ngozi Adichie; as well as a tribute to the late war correspondent Marie Colvin. Heard read a self-authored letter, expressing to victims of abuse that "You may not see us, but we are there. Your sisters are everywhere – and we are with you." Actress Minnie Driver acted as emcee for the proceedings and began the evening by kicking off her heels. Presenters including Amber Heard, Tiffany Haddish, and Sam Taylor-Johnson followed the gesture in solidarity.
Yeomans said: "Celebrating strong and inspirational women is at the heart of everything PORTER does. I am thrilled to be co-hosting this evening once again with Donna Langley. This year we are celebrating those who are One Year Stronger – those women who are not only less afraid to speak out and challenge the status quo, but also are effecting real change both in the workplace and in society as a whole."
Langley, an Ambassador for the Vital Voices Global Ambassadors Program and who also serves on the Vital Voices Board of Directors, noted: "This year, perhaps more than any other time in our history, we have seen how truly vital women's voices are and how impactful we can be when we come together to support one another," said Langley. "On behalf of Vital Voices, I am honored to partner with Porter and Lucy Yeomans again on their Incredible Women Initiative that celebrates and unifies these indomitable women for their intelligence, determination, vision, and strength."
Prior to the performances guests were treated to a champagne reception, supplied by Laurent-Perrier and followed by a sit-down dinner for 130 high profile guests within the historic Los Angeles building. There was also a musical choir performance by Praizium during the champagne reception and dinner.