The star-studded 19th Annual Emmys Golf Classic raised $335,000 for the Television Academy Foundation.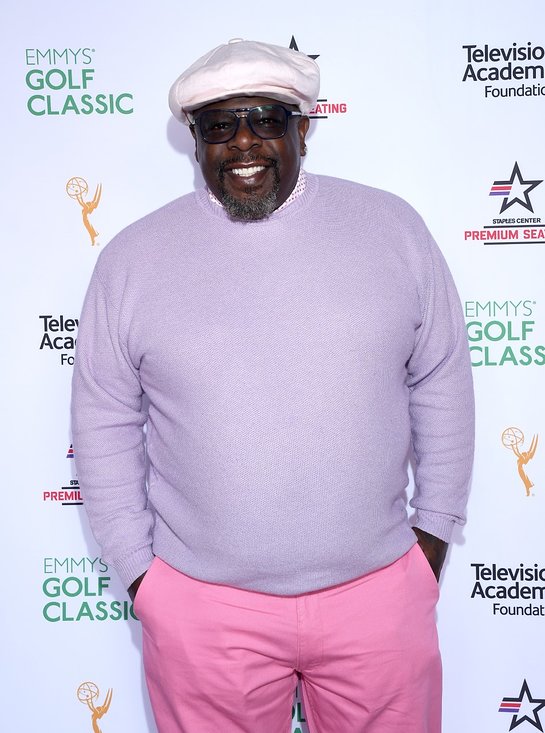 Proceeds from the fundraiser, co-sponsored by STAPLES Center Premium Seating, will benefit the nonprofit Foundation's renowned educational programs.
Television stars, entertainment industry executives, Television Academy leadership and corporate partners competed in the golf tournament at the Wilshire Country Club in Los Angeles, California, on Monday, Oct. 29.
Hosted for the second consecutive year by Cedric the Entertainer (The Neighborhood), the event included competitors from some of television's top shows: Andy Buckley (Shameless), Bailey Chase (Twin Peaks), Chris Conner (Altered Carbon), Matt Corboy (Love for Christmas), Matt Craven (Sharp Objects), Patrika Darbo (The Bold and the Beautiful), Arturo Del Puerto (Camping), Kellee Edwards (Mysterious Islands), Patrick Fabian (Better Call Saul), Jackie Flynn (Loudermilk), Spencer Garrett (Unsolved: The Murders of Tupac and the Notorious B.I.G.), Edwin Hodge (Six), Michael Ironside (The Alienist), Isaac Keys (Get Shorty), Richard Kind (Big Mouth), Matt Letscher (Narcos: Mexico), Kate Linder (The Young & the Restless), Peter Mackenzie (black-ish), Benito Martinez (How to Get Away with Murder), Bruce McGill (Shades of Blue), Sheaun McKinney (The Neighborhood), Breckin Meyer (The Fix), Jay Phillips (Grown Folks), James Remar (Black Lightning), Tim Simons (Veep), Mauricio Umansky (RHOBH) and Peter Weller (The Last Ship). Athletes Andia Winslow and Byron Chamberlain also competed in the event.
The tournament kicked off with "on the green" carpet arrivals, followed by a putting contest, full round of golf and an afternoon cocktail reception. The day concluded with an awards dinner where honors were presented, including:
Grand Prize Low Net Winner: The Johnny Carson Foundation team
2nd Place Low Net:

CBS

team led by Cedric the Entertainer
3rd Place Low Net: Universal Television team led by Matt Craven
Ferrari Blindfold Celebrity Challenge Winner:

CBS

team led by Cedric the Entertainer
Putting Contest Winner: David Coupland of

HBO

team led by Arturo Del Puerto
1st Place Gross: The

NBC

team led by Byron Chamberlain
Celebrities also took time during the event to autograph prize bottles of Ferrari TrentoDOC and Sterling Platinum plus a Dooney & Bourke Weekender to be auctioned off in the Foundation's upcoming holiday season auction.
Sponsors for the event are AMC Networks, ARIS Consulting, Academy Benefits, The Agency, Audi, Billie Greer, CBS Television Studios, Dolby, Dooney & Bourke, EY, EPIX, FX Networks, Ferrari Trento, FIJI Water, GreenMouse Recycling, HBO, Johnny Carson Foundation, Dawn DuMont-Perdew, Knot Standard, L'Oréal Paris, NBC Entertainment, PEOPLE, STAPLES Center Premium Seating, Sterling Vineyards, tbs l TNT, Universal Cable Productions and Universal Television.
For the first time, the Emmys Golf Classic hosted a special golf clinic for beginners, introducing the sport to participants who enjoyed a full lesson on the driving range.
"Our sincerest gratitude to Cedric the Entertainer and all of the stars who participated in this year's Emmys Golf Classic," said Madeline Di Nonno, chair of the Television Academy Foundation. "Along with our sponsors, their support helps sustain the Foundation's exceptional education programs, which provide professional experience, industry access and career pathways for students with diverse backgrounds. For nearly 60 years the Foundation's programs have helped launch careers in television, and we appreciate the ongoing support of the Hollywood community."