On Saturday January 5, 2019, Hollywood welcomed some of the world's greatest athletes to celebrate their most Golden weekend. "Gold Meets Golden 6" was refreshed by The Coca-Cola Company, and produced and founded by CW3PR's Charley Cullen Walters and Cinema Magazine's Scott Orlin. The brunch took place at the House on Sunset.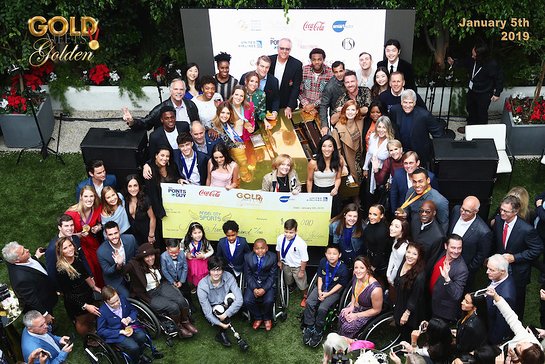 With the recent announcement of the Games' triumphant return to Los Angeles in 2028, Hollywood has been handed a fresh dose of Olympic Fever. While last year's 'GMG' celebrated the past, the 2019 event looked at the future by celebrating Youth in Sports, benefiting Angel City Sports, A $50,000 check was presented by "The Points Guy", Brian Kelly, who surprised the crowd by doubling the donation on stage. Gold Meets Golden 6 also spotlighted The Foundation for Global Sports Development, a leader in the sports community that delivers and supports initiatives that promote fair play, education, and the physical and developmental benefits of sports for youth around the world.
Hosted by Nicole Kidman, attendees included Jessica Chastain, Chrissy Metz, Matt Bomer, Topher Grace, Octavia Spencer, Amy Adams, Patricia Clarkson, Ryan Murphy, Billy Porter, Michelle Yeoh, Mark Ronson andmany more.
The Coca-Cola Company unveiled new Olympic merchandise as it looks toward the next Tokyo 2020 Olympic, and featured golden items related to the new sports that will debut at these Games. Attendees received a first look at the new LAX Private Suite program from United Airlines, the official travel partner for Gold Meets Golden and also a proud sponsor of TeamUSA. Renowned J Vineyards & Winery Michelin-star Chef Carl Shelton provided a gold-medal menu of Brunch libations, and a gold signature sparkling wine coupe tower. Discovery Destinations who invite everyone to climb, zip, bike and more in their Discovery Adventure Parks worldwide celebrated the new Olympic event of Sports Climbing with "The Climb," a state-of-the-art projection-mapped, mixed-reality photo op. The experience was powered by Farbound- the leader in Gamified Real-Life Experiences. Bulletproof, an official partner of the U.S. Ski & Snowboard team, provided guests with many healthy products, and offered their signature Oxygen Bar experience where guests indulged in essential oil scented oxygen to feel refreshed, full of energy and detoxified. Popular travel website "The Points Guy" and their founder Brian Kelly shared tips and tricks on how to maximize travel experiences and help future Olympic-bound passengers obtain gold status and beyond in the age of Golden travel. Cupcake Supplier Sprinkles displayed some mini "Bowtie and Gold Medal" cupcakes that perfectly fit the event theme.
Carrying a traditional torch for the event ignited by past performances of LA-LA Land's "City of Stars," and Keala Settle's "This is Me" from the Greatest Showman, which each won Awards for Best Original Song, this year's Gold Meets Golden stage was occupied by Globe-nominated Billy Porter (FX's POSE, Broadway's Kinky Boots, who performed the nominated hit song "Shallow" from "A Star is Born." The song also won the Globe the next day, making this a "3 for 3" record for the event. The performance was introduced by Lady Gaga's co-writer Mark Ronson, and featured a specialty new Gold-plated grand piano supplied by FX Networks.
Upon exit of the event, guests were presented with the famous Gold Meets Golden gift bag filled with a variety of luxury items. This year's bag included a Limited Edition Tokyo 2020 Pin Set, the Spencer Barnes LA "Gold Medal" Neck Wand, Golden HUE Awakening Mist, empower Bodycare products CBD topical relief oil and lotion, a Coca-Cola official Olympic bottle opener, Appletinies organic apple pieces with chocolate, a Bulletproof golden-wrapped gift of Brain Octane Oil, Collagen Protein Bar & Sleep Mode Supplement, Sprinkles Cupcakes Specialty "Gold Meets Sprinkles" mini cupcake set, a J Vineyards & Winery cuvee 20 sparkling wine bottle, "The Points Guy" Golden Passport Holder & Luggage Tags, beats by Dre Studio3 wireless GOLD headphones, RITUALS' Golden Dao Tea Set, a bottle of Oribe Cote d'Azur Golden Nourishing Hand Creme, A Bev Wine signature pink Rose can, and MyIntent's "What's Your Word" customizable gold medal bracelet.