Golden Globe Award-winning actor Colin Farrell will accept the City Summit & Gala's Inspiration award at the 4th annual event which takes place at the Burbank Convention Center Feb. 21–24.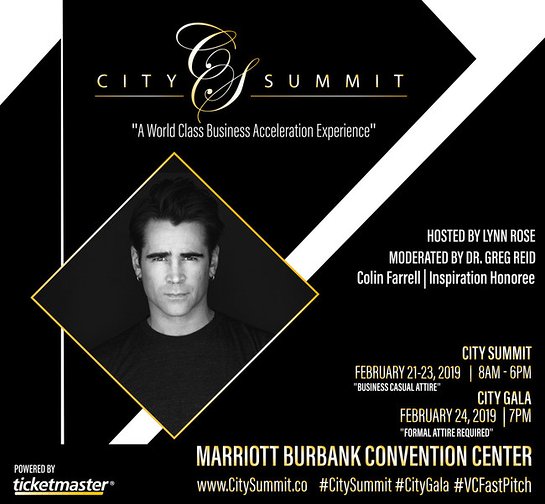 "I'm grateful to organizations like the City Summit for highlighting professionals and providing awareness and support to entrepreneurs that want to help solve today's challenges," said Farrell.
The City Summit is a world-class business acceleration experience that brings together the founders of highly successful companies to teach business owners how to thrive throughout any economic climate. Speakers share business presentations on sales, mindset, strategy, digital marketing, innovation, business fundamentals, investments, raising capital and networking.
Each year, City Summit founder Ryan Long organizes special guest appearances from influential speakers that are motivated to share philanthropic viewpoints and inspirational messages. Past appearances and honorees include Halle Berry, Ashton Kutcher, Sir Richard Branson, Charlize Theron, James Cameron, Sean "Diddy" Combs, Matthew McConaughey, Quincy Jones, John Paul DeJoria and John Travolta.
"Mr. Farrell has overcome monstrous amounts of adversity in his personal life and professional career," said Long. "Overcoming adversity is the common thread that ties together anyone that wants to consistently stay on the path of success. We are excited to give him our Inspiration award at the upcoming City Summit & Gala."
The 4th Annual City Summit & Gala also includes speaking appearances from motivational speaker Les Brown, Kevin Harrington (Shark Tank), Mario Lopez (Extra TV) and Randy Jackson (American Idol).
To register for attendance at The 4th Annual City Summit & Gala, visit www.CitySummit.co/annual.