Here is your chance to visit Andrea Bocelli at his vineyard in Tuscany and sit in the front row of one of his shows.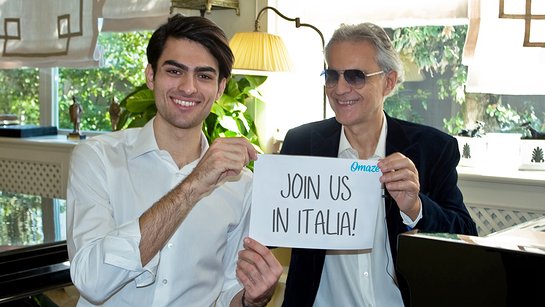 A new charity raffle brought to you by omaze.com is giving you the unique opportunity to be flown to Italy and join Andrea Bocelli for this once-in-a-lifetime experience. All you have to do is donate to the Andrea Bocelli Foundation through Omaze – the more you donate, the more chances you have to win.
If your life was a song, consider this its crescendo. You and a friend are off to Tuscany to discover the man behind the most beautiful voice in the world: Andrea Bocelli! Pack your bags and brush up on your Italian, because Andrea's inviting you to join him in Lajatico for an exclusive tour of his hometown and a concert experience you'll never forget. From strolling through Andrea's vineyard and sharing a glass of wine together, to sitting front row for his concert at the nearby Teatro del Silenzio, this trip — much like Andrea's music — will be nothing short of spectacular. The only hard part? When it's time to say goodbye. Flights and hotel included!
The Andrea Bocelli Foundation (ABF) was founded in July 2011 by Andrea Bocelli and his family to give back some of the affection and closeness that they experienced while traveling across the world for Maestro Bocelli's career. The ABF's mission is to empower people and communities in situations of poverty, illiteracy, illness and social exclusion by supporting projects that help those in need overcome these barriers and reach their full potential. ABF currently runs two major programs: Challenges and Break the Barriers. The Challenges program operates in the field of scientific and technological research to find innovative solutions to help people cope with and overcome limitations imposed by disability. The Break the Barriers program supports communities in Italy and in developing countries facing poverty, illness, malnutrition and complex social situations that reduce their life expectancy.
To find out more about how you can win this experience, click here.