The 19th Annual ADAPT Community Network Golf Tournament was held at Brae Burn Country Club & the Golf Club of Purchase in Purchase, New York, on Monday, May 13th, 2019.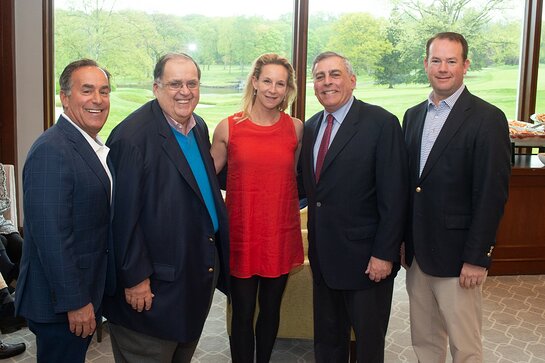 The annual tournament attracted nearly 200 golfers for a day of golf and entertainment in support of ADAPT Community Network.
All proceeds from the event help fund the delivery of life‐affirming programs and services to children and adults with disabilities and their families.
The golf tournament was hosted by Anita Marks, sports betting and fantasy football analyst for ESPN and a host on 98.7FM ESPN New York.
Edward R. Matthews, CEO, ADAPT Community Network, presented the ADAPT Community Network Corporate Champion Award to Alan Zack, President, Alliance Brokerage Corp. The award, now in its sixth year, recognizes individuals who demonstrate the power to inspire and lead as role models for people with and without disabilities. Jeffrey S. Weiss, President, The Weiss Group, and last year's award recipient, Chaired the event.
VIPs attending this year's golf tournament included: Edward R. Matthews, Anita Marks, Alan Zack and family, Jeffrey S. Weiss and family, Jason Carlough, Michael Berger, Mark Senders, Linda Laul, Christopher Laul, Ryan Laul and Patrick Yu.
This event was a great success thanks to our generous Presenting Sponsor Ken Carmel and the Carmel Family, and our other leading sponsors and supporters: Pilot RB, Alliance Brokerage Corp., The Weiss Group, Colliers International, Rester Management, Ed Matthews, Bella Bus, Chicago Title Insurance Company, Chubb Insurance, HOK, Home Clean Home, Richard Levy, Medisked, Medline Industries, Inc., PC Connection, People's United Bank, Philadelphia Insurance Companies, Precision Pharmacy, Putney, Twombly, Hall & Hirson LLP, Signature Construction, Stop Pest Control of NY, TGI, Weeks Lerman, AFM Insurance, AMS Risk Management & Consulting, Inc., Bank Direct Capital Finance, Brothers & Brothers Contracting, CNA Insurance Company, Delmonte-Smelson Jewelers, Durnan Group, G-NET Construction Corp., Arnold Herrmann, James Grant Public Relations, John J. Barile Landscaping, Inc., The Litt Family, Linda Laul, Monroe College, PIX11 News, Preferred Concepts, LLC, Property Resources Corporation, Fawn & Brian Rich, Risk Management International LTD., The Stockbridge Group, The Diton Group At Morgan Stanley, The Producers Group, United Asset Strategies, Inc., United Healthcare Oxford, Vonage, Vincent J. Dicalogero, CPA'S LLC., Wagner & Zwerman, LLP and Paul & Karen Wexler.