Multiple Grammy-winning musical genius Nile Rodgers spoke out at the launch of Key4Life's new YOUNITED campaign, a flagship movement and a call to action to businesses of all sizes in the UK to offer employment to young people with an offending background.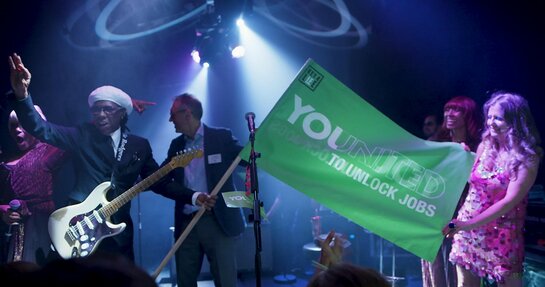 He claims ex-offenders are overlooked by employers despite having the correct skill sets for vacant jobs.
The eclectic icon behind feel-good classics like 'We are Family' and 'Le Freak', lit the stage up in a special performance for the charity at Gray's Inn, London and has thrown his weight behind the initiative, claiming that skills learned in the criminal world are easily transferable and can be put to better use in the business space.
Rodgers, who has employed ex-offenders, said: "It's amazing to me that people don't quite understand that if people don't have second chances, what are they going to do? If you give someone opportunity you are at the same time taking away their incentive to offend. It's a powerful solution.
"You gotta give people a second chance. People who want it, work even harder. From where I'm coming from, thinking of the people I've hired in the past, it's an absolute honour to hand the YOUNITED flag to the next generation.
"I can prove from the track-record of the people that I've had working for me that they've been successful, sometimes more so than me, and they've been dedicated. The one thing that I've seen is that people who grow up in very difficult environments are great thinkers, they really are great thinkers. If you put that brain to work in the proper setting, you'd be surprised by the results."
Key4Life run an innovative rehabilitation programme working with young people in prison and those at risk of going to prison. Good Morning Britain presenter, Alex Beresford, who hosted the gala stated that prison doesn't work in all cases and neither does it act as a deterrent.
The ITV weatherman said: "I don't believe prison works in all cases, I've met young men from where I grew up as a kid that go in-and-out, in-and-out, in-and-out and it doesn't act as a deterrent.
"So, to have something like Key4Life, that can actually go into prisons and work with the boys so that when they leave prison, they have something to look forward to and goals to reach is a win-win. Cause at the end of the day, yes, we want them to serve their time, but we also want them to learn their lesson and realise there is another way and Key4Life is providing that opportunity. "
The charity is presenting businesses who employ offenders with a YOUNITED flag to fly from their offices to signify support for the Key4Life campaign.
Beresford continued : "The YOUNITED flag is a brilliant idea, it's going to give individuals hope, it's going to give employers a target to work to. I think if they can meet that young person, look them in the eye and have a conversation with them, you will start to believe in them because people believe in people, people relate to people, so having something like the YOUNITED flag will make a real difference.
"It will be great to see the YOUNITED flag flying high outside lots of different businesses because at the end of the day we want to make offenders into eligible employees because if we can find them employment, they're going to be contributing towards the British economy and not costing the British economy, because to send someone to prison it costs a lot of money."
David Gauke, Secretary of State for Justice and Lord Chancellor, joined Rodgers to add his weight behind YOUNITED, the charity's latest push to source employment opportunities for programme participants.
He said: "It's a pleasure to support Key4Life and the YOUNITED campaign. I'm a firm believer in the power of work to change people's lives. Work can provide dignity and purpose as well as the money to pay bills and support family life. Many employers already recognise that they can benefit from the skills and work ethic of people leaving prison. Through the YOUNITED campaign, I am sure those businesses will be joined by many more."
Key4Life Founder and CEO, Eva Hamilton MBE said: "We have had an incredibly successful gala and I'm delighted to say we've raised lots of money towards the YOUNITED campaign. I'd like to thank everybody involved for their help and support, they've been exceedingly generous and most importantly we are encouraging employers to offer jobs to young offenders through the YOUNITED campaign.''